A transparent lamp is able to generate charming and evocative atmospheres; this is an intrinsic feature of glass, a material which allows to apply special techniques, intensified by the transparency.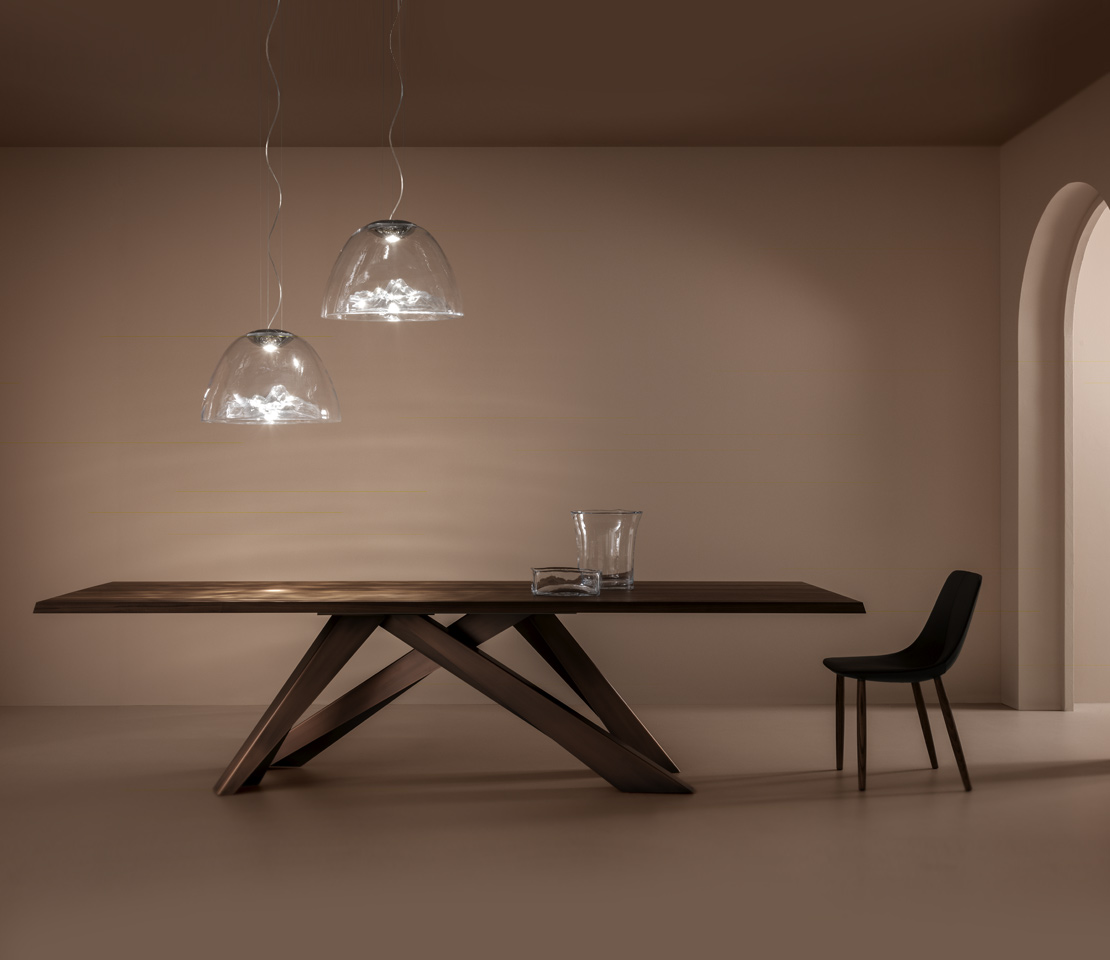 In order to maximize luminosity and generate a cozy and welcoming environment, the glass lamps from Axolight are masterfully handcrafted by expert artisans, making sure to capture the latest evolutions in trends.
Pendant lights, ceiling lamps, floor lamps and every other creation of the Venetian company strives to express in the best possible way contemporary needs, ensuring an unrivalled functionality and absolute comfort. Here are the Axolight proposals for transparent design lamps. 
Transparent pendant lights
One of the most beautiful and eclectic collections created by Axolight is Spillray, including a great number of elegant and elevated proposals. This collection allows to choose among single glass pendant lights, linear compositions with 6 or 10 lights and clusters ranging from 3 to 12 lights.
The really distinctive glass diffuser is undoubtedly the defining element of the collection, because it filters the light and creates elegant reflections. In addition to the transparent version, the diffuser can be chosen with delicate color veining in the tones of red, orange, bronze and gray.
The chromed metal frame is also remarkable: combined with the transparence of the diffusers, it generates complex light effects expanding in the surrounding space and making it really suggestive.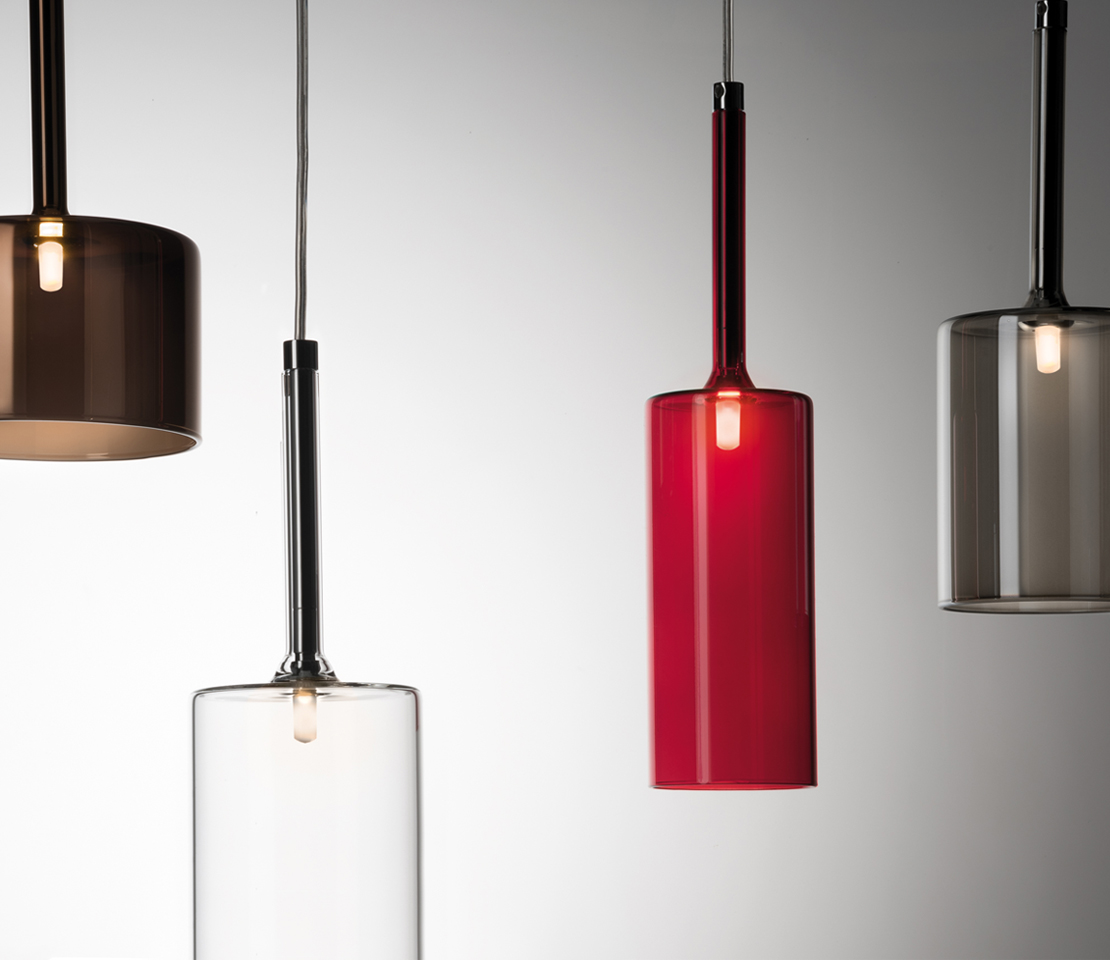 Another original and innovative collection is the Manto lamp, one of the most technologically advanced transparent pendant light. From an idea of Davide Besozzi, this beautiful lamp is composed by an opaline white blown glass sphere, containing the LED source. The sphere is connected to a telescopic arm, which allows to control and reposition the sphere at different heights. By moving the arm, it is possible to decide whether the lamp will remain suspended at a distance or will be wrapped by an elastic fabric. Recommended to grant a relaxing mood to residential spaces, this transparent lamp has a discrete elegance and ensures the right illumination to valorize the décor of a room.
Another unique transparent pendant light is Mountain View, certainly one of the most iconic proposals from the Venetian company Axolight. Designed by the mastery and craftmanship of Dima Loginoff in 2015, this blown glass pendant light represents a piece of art, refined and precious.
Mountain View was inspired from nature and its shape suggest the delicately modeled profiles of a mountain, an absolute design object whose unusual shape decomposes light in a suggestive way, still ensuring an enjoyable and harmonious illumination.
Table lamps and floor lamps
The offering of glass lamps manufactured by Axolight includes also some beautiful table lamps. A really outstanding model is the Aibu transparent table lamp, composed by two half spheres which generate a sweet and delicate movement, morbid and wrapping. This product can amaze for the strength emanating from the simple shapes of the two half spheres.
Another truly unique creation is the CUT table lamp, with an elevated and elegant design, a product casting a fascinating and emotional light. This lamp should be ideally positioned where a sweet and discreet, non-glary light is requested.
Another design lamp from Axolight is the floor lamp version of CUT: an interesting proposal because, exactly like the equivalent table lamp from the same collection, it does not glare and wraps with a gentle light.
Manufactured with aluminum laser cut parts, CUT's original design connects two elements: the LED light source and the semi-transparent diffuser; by doing so, the lamp can be oriented in different positions, resulting in a different light emission.
Transparent wall lamp and ceiling lamps
Axolight has developed exclusive and original products also when it comes to design wall lamps and ceiling lamps. One example is the ceiling light Avir, composed by masterfully positioned small pieces of glass, resulting in a fluid composition which projects a diffused light.
The precious Murano glass pendants, elegant and unique, resemble some waves of light, full of dynamic reflections. The main feature of these pendants is that they are hand crafted, a detail reflection the precious craftmanship of the product.
Both the wall lamp and the ceiling lamp of the same product family are available in different colors: white, red, tea, and striped crystal. The precious finishing in polished steel or gold leaf give some additional flavor to the creation.
On this page, we could just present a few transparent design lamps from Axolight; on our website you can find a broader product selection, meant to satisfy any taste and preference. Our lamps are created to tastefully decorate spaces, conferring an added value to the furniture and the other design accents.