Natural lighting is undoubtedly ideal to make an attic warm and welcoming. However, quite often natural light is not enough and we need to complement it with some artificial light to achieve an optimal result, or to emphasize specific areas which would otherwise remain in the darkness.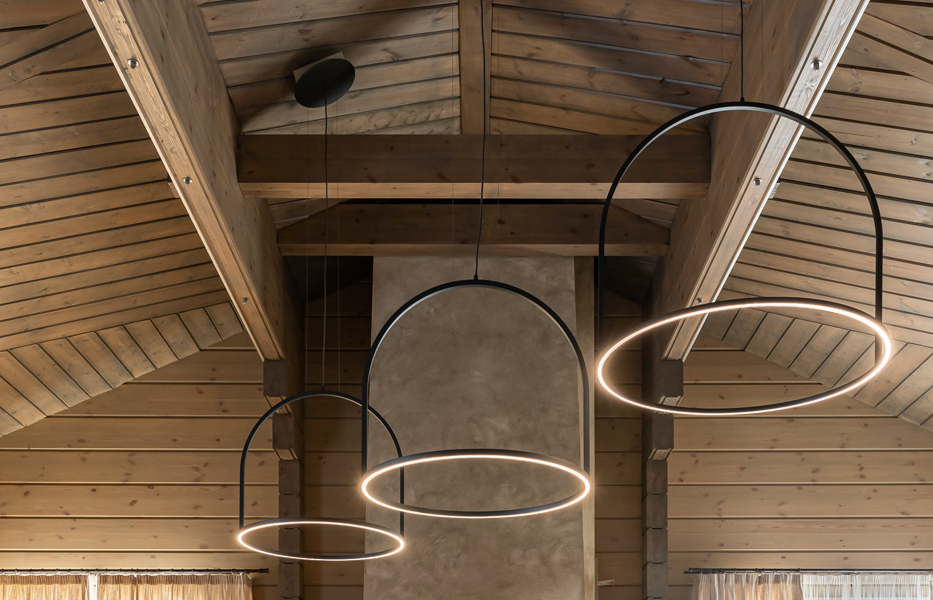 How to define the best positioning for attic lights which will ensure a natural lighting?
Which are the ideal attic lights to choose, in order to achieve a final effect which will perfectly combine functionality and aesthetics? Here are some useful advices to make your attic lighting look as natural as possible.
Which light typology to choose for an attic
The best solution to choose attic lighting ensuring a natural effect is to select LED lamps and find a balance with the pre-existing natural light, usually coming from windows or skylights.
Taking into consideration the available light, we can define additional positions where some new light sources will be installed, and also where to place pendants, wall lamps, floor lamps, spotlight and any other kind of lamp, to be chosen evaluating free space and the ceiling height. 
In fact, ceiling height is one of the most important aspects to be considered while choosing a lamp. Depending on ceiling height, we can opt for pendants or recessed adjustable spotlights, or even more innovative solutions like acoustic lights, which allow to illuminate and reduce sound reverberance in a closed space such as an attic.
In the lamp definition color is another important aspect: white is often used to valorize the effect of lighting, in other situations soft wooden tones are preferred, turning the attic into a warm and elevated space.
Among the new proposals to valorize and intensify light, we can find also the black lamps with minimalist style, a perfect match with modern furniture, industrial style, recommended for those who want to create a trendy attic.
Last but not least, it is also important to consider the size of the lamps in relation to the available space, if space is limited, we recommend avoiding placing too many lamps, otherwise the attic will look even smaller.
How to achieve a natural look in an attic with light positioning
In order to achieve a natural look, light positioning for an attic must be defined considering both the ceiling heights and the presence of natural light sources. Here are the recommended set-ups for a high ceiling attic and for a low ceiling attic.
       

Light positioning for a high ceiling attic
In a high ceiling attic, most likely there will be an ample glass surface to allow solar light to filter. If the central part of the ceiling is high, an ideal choice are pendant lamps, especially suitable for a dining area. If there is a long table, a very good solution can be a suspension with multiple lights, which will add to the space an elegant and elevated atmosphere. Floor lamps can be combined with the suspensions, placing them in the side areas with lower ceiling, in order to avoid having darker spots. A very good design idea is also installing lights at different heights, in order to create an implied sense of movement and customize the overall effect.
       

Light positioning for a low ceiling attic
When dealing with a low ceiling attic, there is normally a scarcity of light: even in the presence of a source for natural light, quite often it will be small and not allowing sufficient light. Obviously, we won't be able to use pendants, so the best option are spotlights, due to their compact shape and also because they can be oriented to highlight the living space, creating a visual separation from other areas. Orientable spotlights can be focused on objects or decors in a defined spot; alternatively, they can be placed towards the ceiling to create a more diffused illumination. Table lamps are another great solution to create the right illumination and make our space even more warm and cozy. To complement lighting, we recommend adding a few floor lamps in the living area.
Some ideas on lamps to choose
Among Axolight collections to illuminate an attic, we recommend the sound absorbing U-light, a solution which is perfectly combining lighting performance with acoustic comfort. In fact, the U-light pendant can be equipped with a PET panel with acoustic properties, ensuring a significant noise reduction, thus improving well-being for the persons in this space.
A valid alternative to the traditional sound absorbing panels placed on the walls, this lamp allows to have a very good illumination and a peaceful environment.
As far as black lamps are concerned, the Cut collection of orientable lamps, ideated by Timo Ripatti for Axolight. These lamps are manufactured with laser-cut aluminum parts which are maintained with the natural color of the material, truly emanating a nocturnal fascination.  The integrated dimmable LED source is emanating its light on the semi-transparent glass diffuser, decorating with elegance and style.
On the Axolight website you will find a broad offering of design lamps and design pendants to decorate your attic with good taste and originality.