With this modular ceiling light fixture, Axolight guides lighting design and home decor into a new, futuristic dimension that perfectly encapsulates form and function.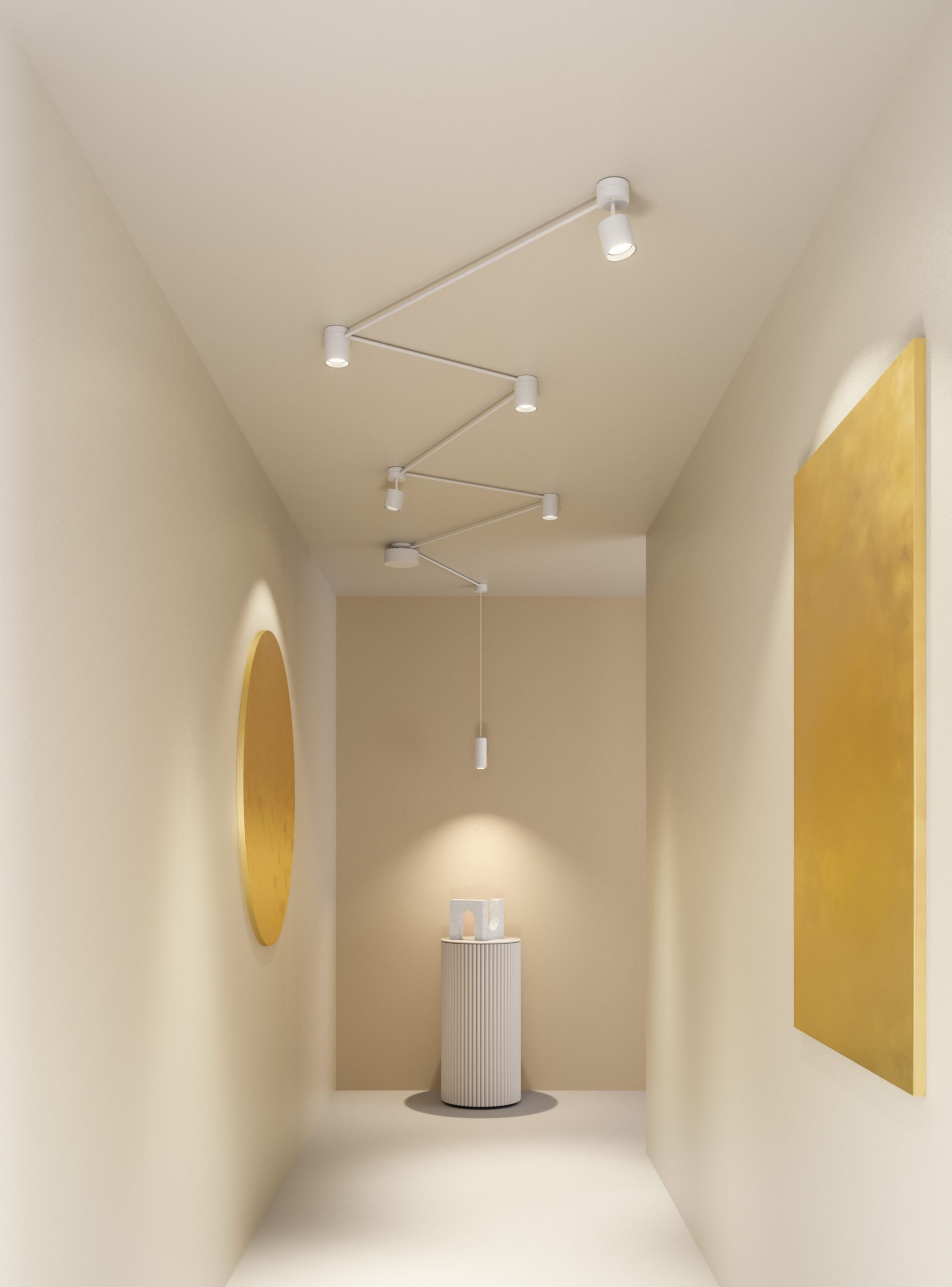 Pivot is a modular light fixture designed by Ryosuke Fukusada with a mathematical approach to art and lighting design. This special ceiling light fixture is made of three main elements, combined in countless ways to create a custom lamp and unique style. 
Using mainly led lights and geometrical shapes, Pivot allows for a great personalization and lets you reach the darkest corners of every room with a simple movement. Write your initials on the ceiling, create wonderful constellations and change the space's vibe with a few adjustments. 
Pivot's modular system and how it works
This modular light fixture has been designed by Japanese designer Ryosuke Fukusada for Axolight with a specific goal in mind: letting everyone choose their own light design. With three main parts (a small cylinder and two stacked pivoting rings, connected through fine tubular lines), it can be adjusted to perfectly express your style and taste. 
You can use Pivot by itself, drawing lines, geometrical shapes and even letters just moving its led light sources as Italian design modern light fixtures. Or you can also attach some other lights by Axolight to Pivot to create an even more custom lamp. Several suspension lamps such as Jewel Mono by Studio Yonoh, Liaison by Sara Moroni, Urban mini by Dima Loginoff, Virtus by Manuel Vivian are compatible with this modular system. 
The aesthetics of Pivot was inspired by the hishaku, making for a contemporary interpretation of Japanese traditions and culture. The different uses of its elements can be adapted to a living room or a hallway, a home office, an elevator lobby or an entryway to illuminate even the darkest corners of every room in your home. 
Led ceiling light fixture for an hospitality business 
The Italian lighting design company has lots of experience in illuminating business places as well as private houses, and Pivot is a perfect example of that. You can use it in hotels and restaurants as well as a personal home with the same flexibility and customization. 
A custom lamp at the hotel reception desk makes for a wonderful way to combine brand awareness and decor: think about a led ceiling light fixture which spells your establishment's logo or first letter. 
Same goes for a shop or a restaurant, where every table must receive the right amount of light. With Pivot's modular light fixture, you can even match the lamps' design to a particular holiday season, creating a new atmosphere every time you change something. 
How to match Pivot with your interior design style
Using it by itself, the modern flush mount ceiling lights make for a minimalistic and contemporary vibe in your office, living room or business establishment. But what happens when you attach another model of lamps to it?
The entire space takes on a new style, being simple and modern (with Jewel Mono); curved and sensual with Liaison; industrial when paired up with Urban Mini or Virtus. This not only allows for a perfect expression of your personal style, but also helps you renovate the space every once in a while. Once you install the modular light fixture, you can change the lamps attached to it every time you want according to your use of the space, home decor's trends or simply your desire to shake things up.
Choose the right position for every piece of the ceiling light fixture, in order to reach every corner that needs illumination. Then find your own personal style by experimenting with elements and add-ons to create a custom lamp.