The widespread diffusion of remote working has made it necessary to create a home office location. For this area, it is paramount to ensure the maximum concentration can be achieved, but also the correct lighting, especially if working with a screen. Here is some useful advices to make your home office enjoyable and welcoming.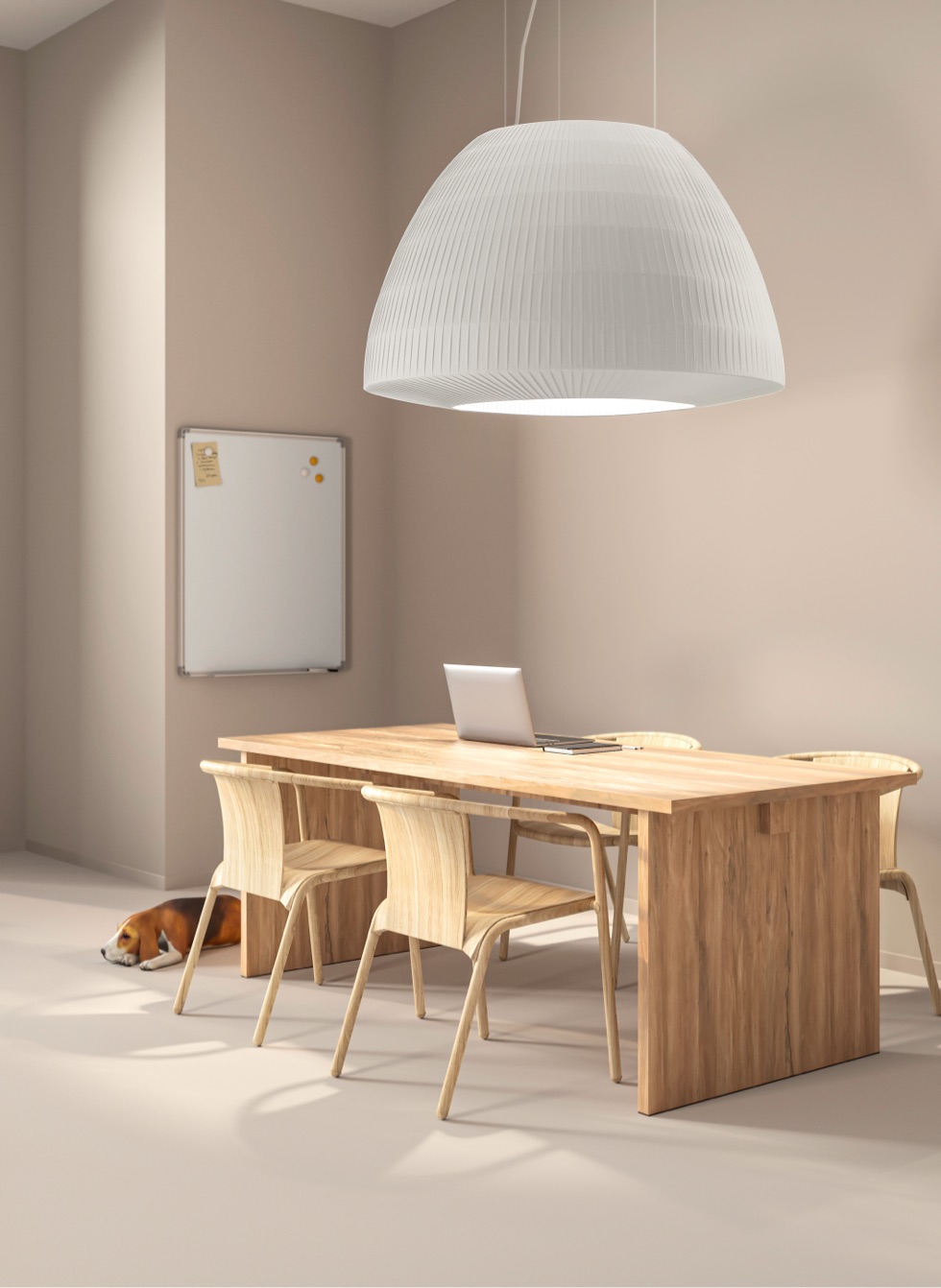 First of all, we should define which is the location dedicated to remote working. Regardless of the available square footage, you should find a corner for your laptop, organizers, documents, stationery and always work in the same spot. Sure, it is sometimes tempting to use more comfortable areas (a bed, a sofa, a lounge chair) but you should resist. Having a dedicated working space will allow to better define spaces and also to mentally separate the moments where you are on duty from those where you can relax
What cannot be missing in your home office
If you are not used to working from home, moving from a traditional office setup to a home office can be traumatizing. This is why it is important for your remote working location to be as comfortable and organized as possible.
Carefully select the illumination for your pc

. When possible, you should position your desk next to a window and never have the source of natural light behind you. By doing so, you will avoid annoying reflections on your monitor.

Posture matters

! The height of desk and monitor, the keyboard, they all need to be regulated according to your chair. In this case, you should invest in your health: a good posture will do wonders in keeping you in good shape and avoid fatigue.

Maintain your workplace in order as much as possible

. The organizer, the documents folders, your tablet and smartphone, every object should have a defined location. Take advantage of breaks to put everything back in the right place: an organized space is very helpful in reducing work related stress.

Indulge in some details.

If the room does not allow looking outside of the window, a colorful wallpaper decoration will give additional depth to the space and ensure new stimuli to creativity. Colorful and stylish objects to keep pens and pencils in orders can give a touch of customization to your working space 

Do not forget your health.

Keep at hand a water bottle (better if ecologic and recyclable), put some fresh flowers on the desk and remember to take a break, once in a while.
Control visual fatigue
The danger of working long hours in front of a monitor, in your office or work from home location, is to create fatigue for the eyes. To avoid this, choose a not too intense illumination for the monitor, use eyeglasses which can filter the blue light and create in the room a diffused light as natural as possible. 
You can also make small exercises for your eyes, while you are working. Always remember to hydrate and take frequent pauses to detach your eyes from the screen.
Illumination of the personal computer area.
When you are concentrated on your work, you can easily lose track of time and find yourself staring at the screen for hours. In the long run, this can generate issues for your sight, headaches and fatigue. For this reason, pay particular attention to the way your home office space is illuminated. 
First of all, find a source of natural light, like a big window, and make sure to position your desk in front or perpendicularly to the window. Even feng shui, in fact, prescribes that light sources should always be in front, and not behind the shoulders. As an additional benefit, you will avoid reflections on your monitor.
After that, you should choose a diffused light as warm and natural as possible. Using designer lamps and pendants in high position or spotlights in the key areas, the illumination of your workplace will be relaxing for the eyes even in the evening or night hours. To achieve this, another great idea is the table lamp from the Clavius collection, irradiating a morbid light and creating an enjoyable atmosphere in your corner dedicated to remote working.
Last but not least, make sure to pay attention to the choice of the table lamps. If you wish to have a beam of direct light, useful on the desk when reading or writing, Orchid is the right model for you. With a biophilic design inspired by nature, Orchid can match any décor style and allows you to orient the desk lighting where needed. Float is another desk lamp system with a soft touch control. The intensity of the light beam can be easily adjusted with a single touch, based on the needs for a monitor or a desk.