Internal staircases are used to connect different floors in a building and they need to be adequately illuminated to ensure a perfect visibility.
Staircases illumination
must be practical and functional, allowing to easily move from one floor to another both during day and night.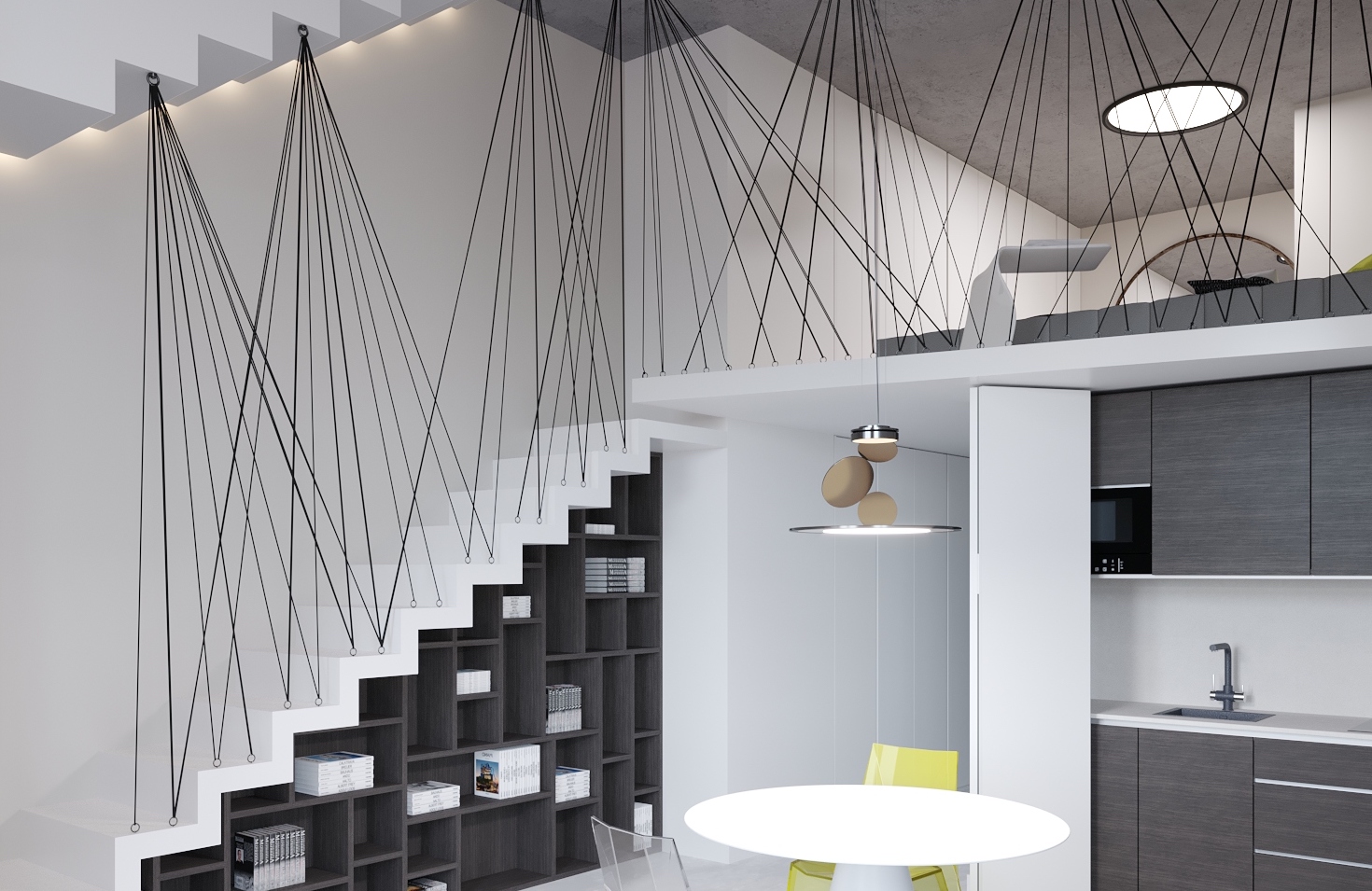 Internal staircases illumination grade has to be optimal and, for this reason, the choice of the lighting solution needs to be curated as much as it happens for the other spaces. Here are some ideas to perfectly illuminate internal staircases in your house. 
How to illuminate internal staircases
Illumination of the staircase must be carefully planned to avoid issues: the ideal solution to highlight this area of a building is to choose LED lamps, considered the best option to have a uniform illumination and leave no corner in the darkness.
There is plenty of LED based solutions: pendant lights, wall and ceiling lamps and many more, all of which helping to create the right evocative atmosphere also for this area of the building. Wall lamps should be installed in a way which will perfectly illuminate each step, whereas ceiling lights are usually emanating a smoother light which is diffusing in the environment.
Recessed lamps on the ceiling or on the wall, which can also be combined, are offering the ideal light to give emphasis to this transit area which is leading towards other spaces in the building. Even wall sconces and orientable spotlights are suitable for internal staircases, especially orientable spotlights that can be freely adjusted to direct the light beam on the stairs, avoid leaving darker spots.
By carefully combining different lamps, depending on the dimensions and length of the staircase, it is possible to achieve extraordinarily glamorous results, but we also need to pay attention to color tones, to be chosen in coordination with the style of the other decors.
Illuminate internal staircases with ceiling and wall lamps
Ceiling lamps are one of the most appreciated solutions to illuminate internal staircases; in additional to being functional, if correctly chosen, they also bring a notable aesthetic touch. Next generation lamps use LED sources, ensuring a superior lighting performance which will allow to optimally illuminate any kind of internal staircase, including spiral staircases.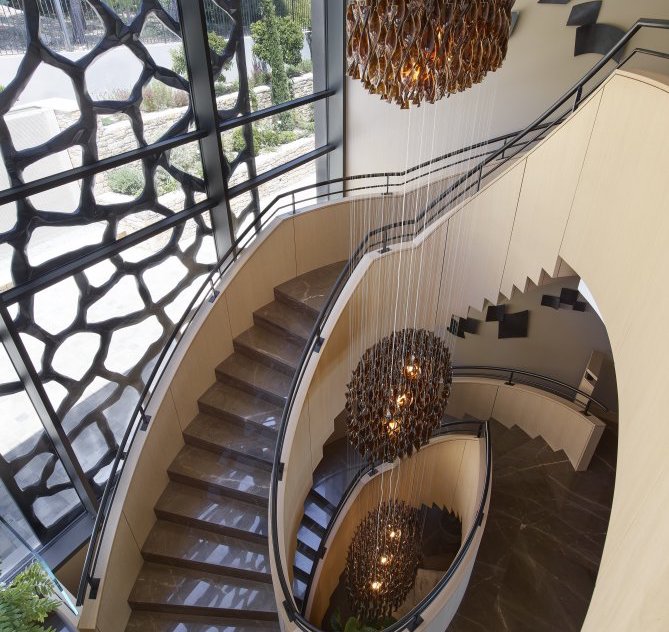 Recessed LED lamps are allowing a more efficient illumination, compared to traditional incandescence bulbs, a longer lifetime and reduced energy consumption, all factors that concur at generating savings. Among the most innovative recessed lamps, we can find Fedora from Axolight, a collection of lamps designed by Dima Loginoff and inspired by the matryoshka dolls. A perfect blend of tradition and modernity, Fedora lamps are manufactured with aluminum and glass, which can be declined into many different configurations.
Even Fairy, a collection designed by Manuel and Vanessa Vivian, is characterized by a masterful matching of metal and crystal, so that, even when it is off, each lamp emanates mesmerizing light reflections. Available as recessed, ceiling and wall lamp, but also as a pendant, Fairy is highly decorative, sophisticated and versatile, considering the wide range of available color variants.
Another wonderful proposal is the Lik lamp, designed by Serge and Robert Cornelissen, offering a wall illumination which is also reflected on the ceiling and therefore will certainly highlight each area of a staircase. This lamp is blending technological performance with a minimalistic shape and it is available in three colors: white, bronze and nickel, to be selected depending on the other decors.
Even the Ego collection is truly fascinating: a family of orientable wall and ceiling lamps created by the Axolight Lab in cooperation with the designer Flavio Venturelli. The Ego lamp is composed by a sleek cylinder of natural brass, containing a very powerful integrated dimmable LED source ensuring a high-quality light emission that will certainly valorize the staircase and the surroundings.
Illuminate internal staircases with wall sconces
Illumination of internal staircases with wall sconces is a traditional solution which is always giving good results and now, thanks to some new proposals, wall sconces are using innovative shapes and materials, so that they become some real design elements for the internal staircases.
To have an extremely functional and eye-catching solution and to ensure the best lighting to internal staircases, we recommend using LED lamps which allow to obtain a strong visual effect, making sure they are positioned at regular distances so that each step will be illuminated and the whole atmosphere will be enjoyable. One of the best wall sconces from Axolight is AX20, manufactured in metal with chrome finishing and also offering the possibility to direction the light beam.
On the Axolight website you will find a broad catalogue with many innovative proposals for design lamps and design pendants, certainly capable of satisfying any requirement in terms of style and taste. All the models have a strong visual impact, reflecting the modern and elegant style of this brand, combined with the exceptional made in Italy manufacturing, a distinctive trait of Axolight.