Lighting for a kitchen must be planned in details to obtain a perfect illumination for the complete room, transforming it into a unique and extremely enjoyable space, while allowing to perform everyday activities in the best possible way.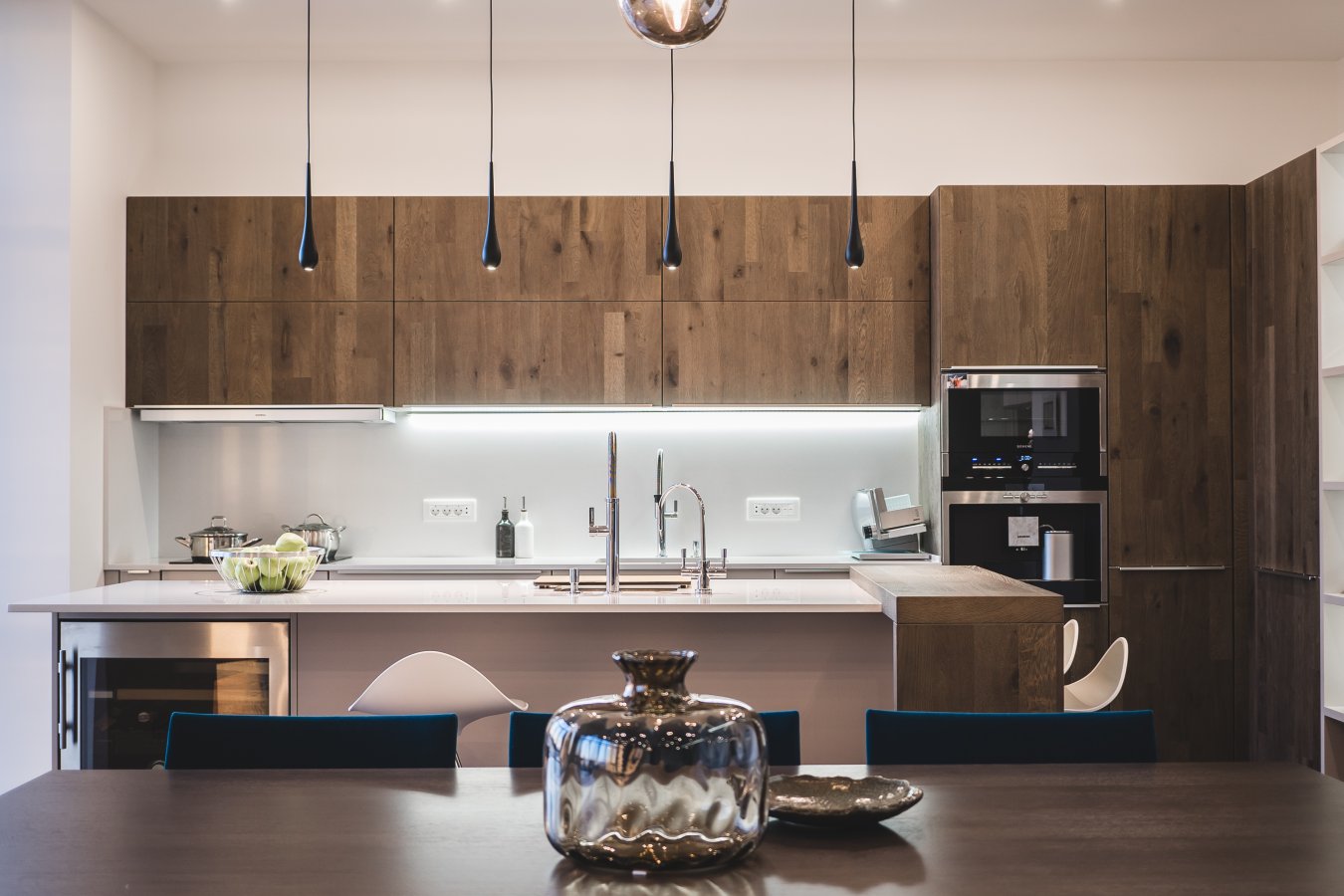 Nowadays, kitchens are multi-functional spaces and the lighting project must fulfill a number of different needs: food preparation, dining, homework, sociality and relax.
A tailor-made lighting project which takes into account all the lighting design principles will allow to add value to this space and minimize possible flaws. For example, good lighting design can make a small kitchen look bigger or compensate the scarcity of natural lighting with a proper choice of products.
What to include in the kitchen lighting design?
The schematics of a kitchen lighting design must be created very soon in the project phase. Nothing has to be left to chance and it is necessary to select the most suitable lights in order to achieve a perfect result in every corner of the room.
Activities like food preparation, cooking, washing, which normally take place around the sink and the cooktop, require a strong illumination. On the other hand, for the dining area it is recommendable to create a warmer lighting for an enjoyable social atmosphere.
It is paramount not to generate shadow areas: a great tool in this case are orientable lights, like for example spotlights and lamps with a movable arm. Always pay attention not to concentrate excessive lighting in the target area, because this could be counterproductive.
In every lighting project, we also need to capitalize on the natural light, that will be filtering from windows, doors or balconies.
Modern or classic kitchen lighting?
The choice of a modern kitchen lighting or a classical one is depending upon our style inspiration; for this reason, furniture, accessories, textures, models and shapes of the lamps must be coordinated.
Pendants, wall sconces, ceiling lights and any other kind of lighting device chosen for the kitchen must be functional, easy to clean and in a good relation with the available spaces, in order not to appear inadequate.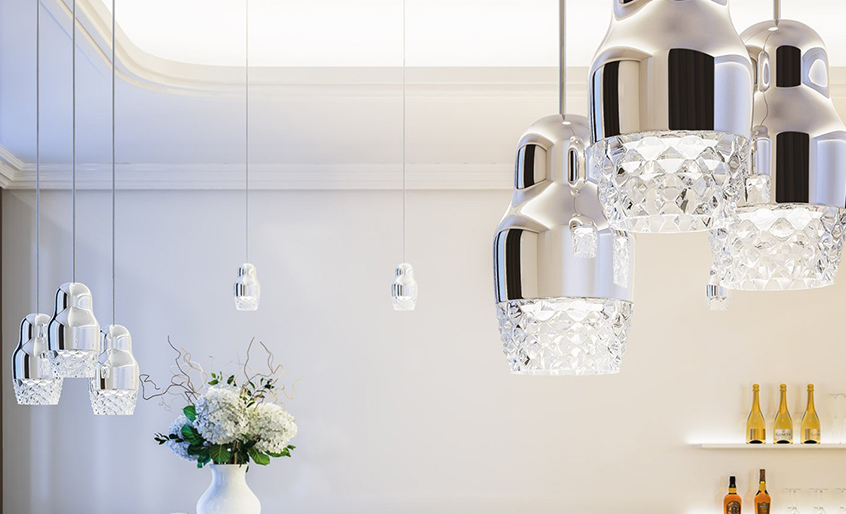 These systems should also require no or very low maintenance (like periodic cleaning), combined with very high energy efficiency and long lifetime, which is now made possible by integrated led lamps. 
Our advice for a perfect the kitchen lighting is to distinguish between functional lighting, needed for working and cooking surfaces, and decorative lighting, whose task is, instead, to make the most of the room and obtain a balanced illumination.
How to illuminate a kitchen? Useful advices
The best solution to achieve an optimal kitchen illumination is integrate functional lights and decorative lights, thus planning to install multiple lighting points:
       

Suspension lamp over the table

       

Spotlights over the cabinets

       

Wall sconces for the kitchen
Illuminate the dining table
One of the most important areas to be considered in a kitchen lighting design is the table, for which the ideal choice is using a pendant light. The light emission for a pendant to be used in the kitchen should be oriented downwards, with the lamp positioned at the correct height to ensure an optimal illumination of the whole surface.
Wall sconces for indirect lighting
Wall sconces are the best option to illuminate perimetral areas of the kitchen and avoid creating dark zones which will transmit to the room a less enjoyable and welcoming feeling. We tend to favor wall sconces or orientable spotlights with a light beam pointing upwards.
Functional lighting for the kitchen work surfaces
Work surfaces and cooktops require a dedicated light for being perfectly illuminated. For this application, light should be white, intense and oriented towards the position where we will be working.
A great solution are the LED spotlights which can also be mounted under the kitchen cabinets, ensuring a correct and uniform lighting to all the underlying area.
On the other hand, when dealing with working surfaces like kitchen islands or peninsulas, the ideal choice are pendant lights with a minimal design: multiple elements with an unimposing look which are not just functional, but are also visually contributing to elevate the overall style.
Among the numerous proposals from Axolight it is easy to find the most appropriate collection to create a perfect kitchen lighting design, both for a residential project than for co-working, bar or restaurant spaces.
One exciting novelty is represented by sound absorbing lamps which are offering outstanding noise reduction performances, combined with a decorative element.
Another versatile and functional product line are the battery operated designer lamps, a category where Axolight's Float stands out: a multifunctional lamp, available in many versions and colors, which can be used for residential spaces and also hospitality.
Fabric lamps are equally unique and very appropriate for a sustainable kitchen space: elegant and refined, fabric lamps will bring a unique atmosphere in the space where we are spending most of our day. Our offering is quite broad and will certainly allow you to create the desired kitchen illumination.