When referring to indirect lighting, we are drawing our attention to a kind of light which creates a warm and welcoming atmosphere in a house, eliminating shadows and glary spots.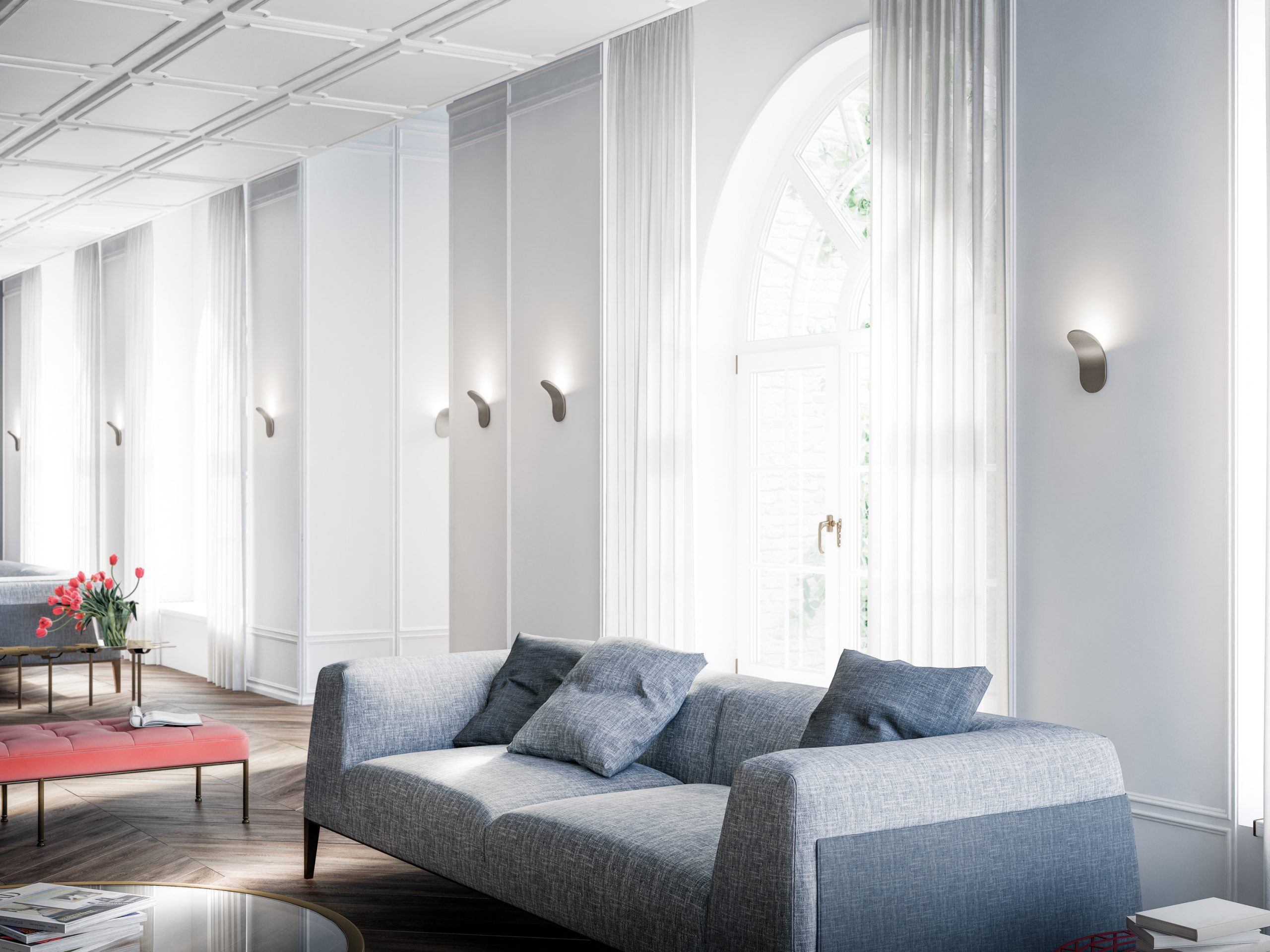 This is achieved with designer lamps and pendants which are providing a diffused illumination to domestic spaces or, to be more precise, a reflected lighting. The light source is, in fact, oriented towards the ceiling, the walls or other hidden spots and creates a uniform reflection on the surrounding areas.
It is very easy to understand why this particular lighting design should be planned and integrated from the beginning in every corner of the house. However, with a few tricks and the right lighting products we can achieve an indirect illumination even during a building renovation phase.
Which are the best lamps for indirect lighting in a living room?
The main feature of indirect lighting is to emphasize the overall volume of a room, eliminating darker spots; for this reason, it is perfect for ample spaces where we tend to spend more time, like the living room.
 In the living room, positioning of light sources must be calibrated taking into account a number of different factors. This is the place where families are gathering and guests are welcomed, therefore creating a warm and enjoyable atmosphere is the goal of every good host. Additionally, the living room is the designated space for relaxation: on the sofa of this important room, we can read a book, watch a movie in good company and spend the majority of our indoor leisure time.
For this reason, indirect lighting can be a winning choice here. Complementing other general illumination, indirect lighting will add depth to architectural spaces and warmth to the environment. There are different options for diffused ceiling lights:
led profiles, elegant and minimal

recessed ceiling lights

orientable spotlights for a designer lighting
Wall lamps, how they are used to create indirect lighting
Spotlights for indirect illumination are certainly one key component of lighting design in this category. With their adjustable beams, they allow direct lighting on a precise spot of the wall or the ceiling, thus creating an indirect lighting. To give these elements a more morbid touch, Lik is the perfect choice. A collection of wall sconces with sinuous design, with curves and smooth surfaces which are framing the light in very precise areas of the wall. 
Among the other wall lamps from Axolight, another model which is particularly well-suited to create this atmosphere is the Polia collection. Like pages of a book caressed by the wind, these design objects can diffuse an intense and indirect light inside a corridor, a living room or a dining room. The result is a warm and luminous space, with a hint of mystery, because light and shadow play hide and seek on the walls.
Recessed lights
Another possibility to create indirect lighting in a wide space, like a living room, a bedroom or a home office, is using recessed lamps, installed on the counter ceiling. Recessed lamps are a natural option for niches in the ceiling or in the slots created on the counter ceiling to generate indirect and diffused light in all the room. The light source is hidden and the indirect illumination will be wrapping all the space without creating annoying glaring effects.
If your wish is to install a design illumination, you should focus on LED recessed lamps: in this case lighting performance is increased and becomes more intense, whereas energy consumption will be sensibly diminished.
Integrate direct and indirect lighting
Indirect lighting, thanks to its nature imbued with mystery and warmth, must be integrated with direct light sources, also called primary. Imagine a dining room with spotlights on the walls. The resulting atmosphere will be perfect for an intimate chat, for a moment of languid relaxation, but it needs a little bit of boosting for the dining moment.
In order to create a lighting design which can match the different uses of the same space, ceiling lamps directly illuminating the dining table should be integrated with some indirect lighting sources. The same concept is valid for an office or for a reading corner: it is perfect to have indirect lighting on the ceiling, but only if complemented by a floor lamp, or a table lamp, allowing a comfortable reading.