Lighting plays a vital role for a restaurant and has a strong influence on the entertainment of the customers. A correct illumination creates the right atmosphere to stimulate conversation and a relaxing atmosphere during lunch or dinner, inviting to extend the permanence in the venue.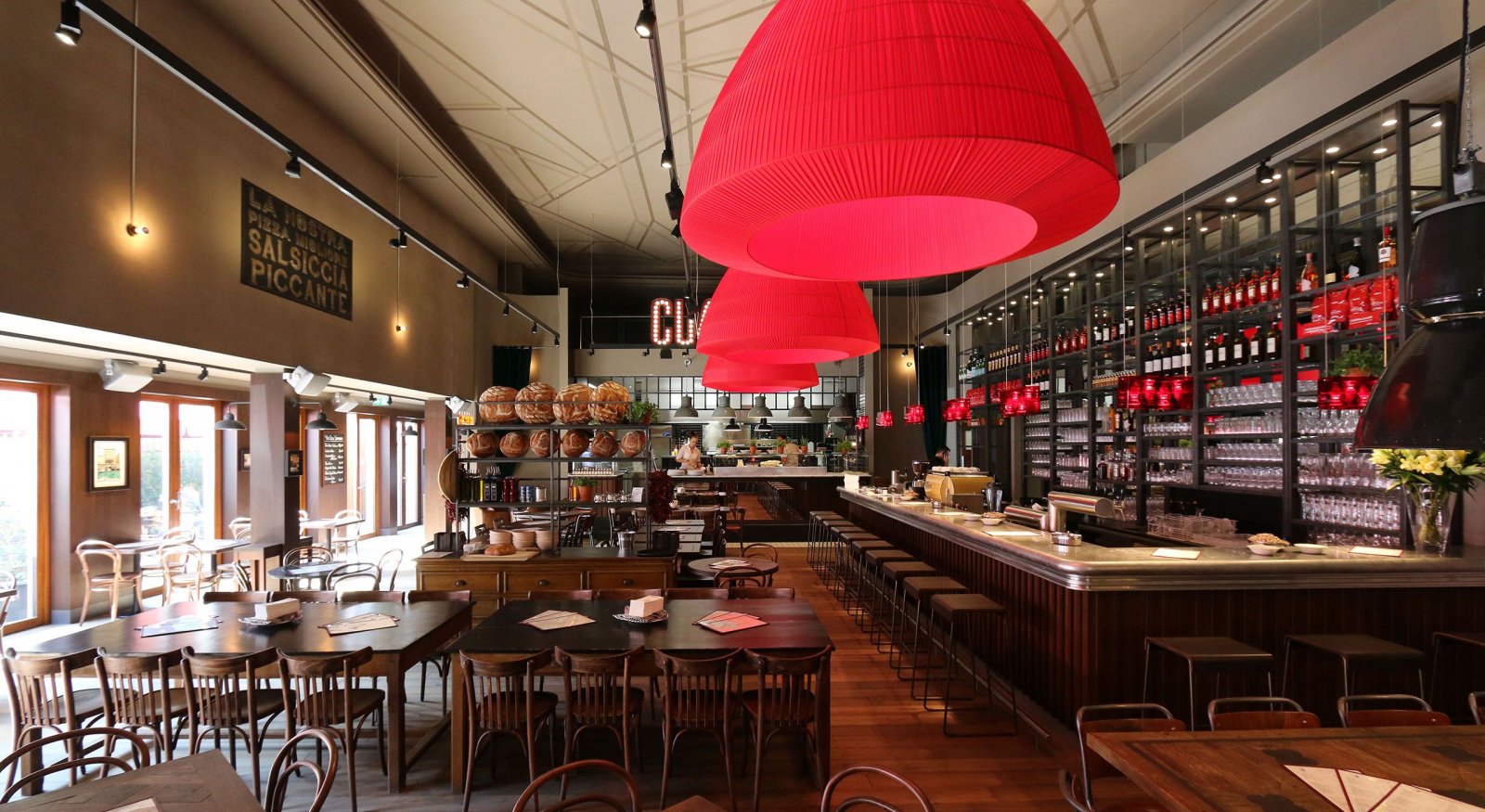 On the other hand, a restaurant which is not properly illuminated does not convey a good impression and encourages to leave as quickly as possible. How to manage restaurant lighting to ensure an enjoyable sensation to clients, possibly instilling the desire to come back again?
Here are some ideas to illuminate a restaurant worth considering to valorize the venue and highlight all the positive qualities which certainly will not be forgotten by patrons, because they helped transforming dining into an enjoyable experience.
How to prepare a lighting plan for a restaurant
Firstly, it is paramount to underline that lighting is one of the key elements in restaurant design. Regretfully, there is no standard project which will fit every restaurant; therefore, lighting must be tailored to each venue, keeping in mind some crucial factors to create an optimal illumination.
In fact, a correct restaurant lighting design has to consider the furniture placement and the architecture of the spaces, in order to match their style and colors. Light should not be an additional element, instead it should be fully integrated with the building and in an harmonical relation with space.
For these reasons, architecture and lighting need to be combined in an optimal way, to valorize the environment and ensure the well-being of the client. If this goal has been reached, lighting will contribute to put the venue in the spotlight and consequently ensure its success.
Choosing the right lighting according to the type of restaurant
A primary rule in the choice of restaurant lighting is to adapt it to the type of venue which we want to launch or remodel. If it is a starred restaurant, lights will be obviously different from a family-owned restaurant.
Once this initial choice has been made, we can concentrate on the type of lamps to illuminate the restaurant and define their positioning. The ideal solution to have a perfect light in all the venues is to utilize different intensities of light, according to the atmosphere we want to create.
How to illuminate different indoor and outdoor restaurant spaces
The table must be illuminated in a different way from all the rest of the restaurant, which should have a diffused light, whereas areas like the cashier, the bar and food displays require a more focused lighting. It is important to remember that lighting should concur at hiding defects and highlight the most outstanding features of the restaurant, in order to make a positive impression in the mind of the clients.
The outside area must be correctly illuminated as well, because it represents the first impression for a restaurant. The outside area will be immediately noticed by customers and lighting will underline the curated appearance of the venue, strongly conveying a positive image.
The correct facade illumination will make sure that lights are guiding customers towards the entrance, making them perceive a special sense of welcome. All these details are fundamental to stand out from the competition and become recognized for excellence.
Which lamps to choose to illuminate a restaurant?
The choice of restaurant lamps must be done taking inspiration from the furniture, the architecture and the amplitude of spaces, in order to determine the most fitting dimensions. Developing a lighting project for a restaurant with design and pendant lamps is a splendid solution to create something truly unique.
Among design lamps we find pendants, table lamps, floor lamps, which are not only illuminating, but also decorating with their presence, like it happens with the Axolight creations, ideated from professional designers expressing their creativity.
As far as table lamps are concerned, a truly innovative product family is the cordless lamp Float, a rechargeable battery lamp designed by Mario Alessiani, a perfect solution to be used on a restaurant table.
Thanks to a central cavity, this aluminum battery lamp can be positioned over any kind of bottle (from a small one to a magnum). The table version has a stainless-steel pedestal and a soft touch dimmer/switch.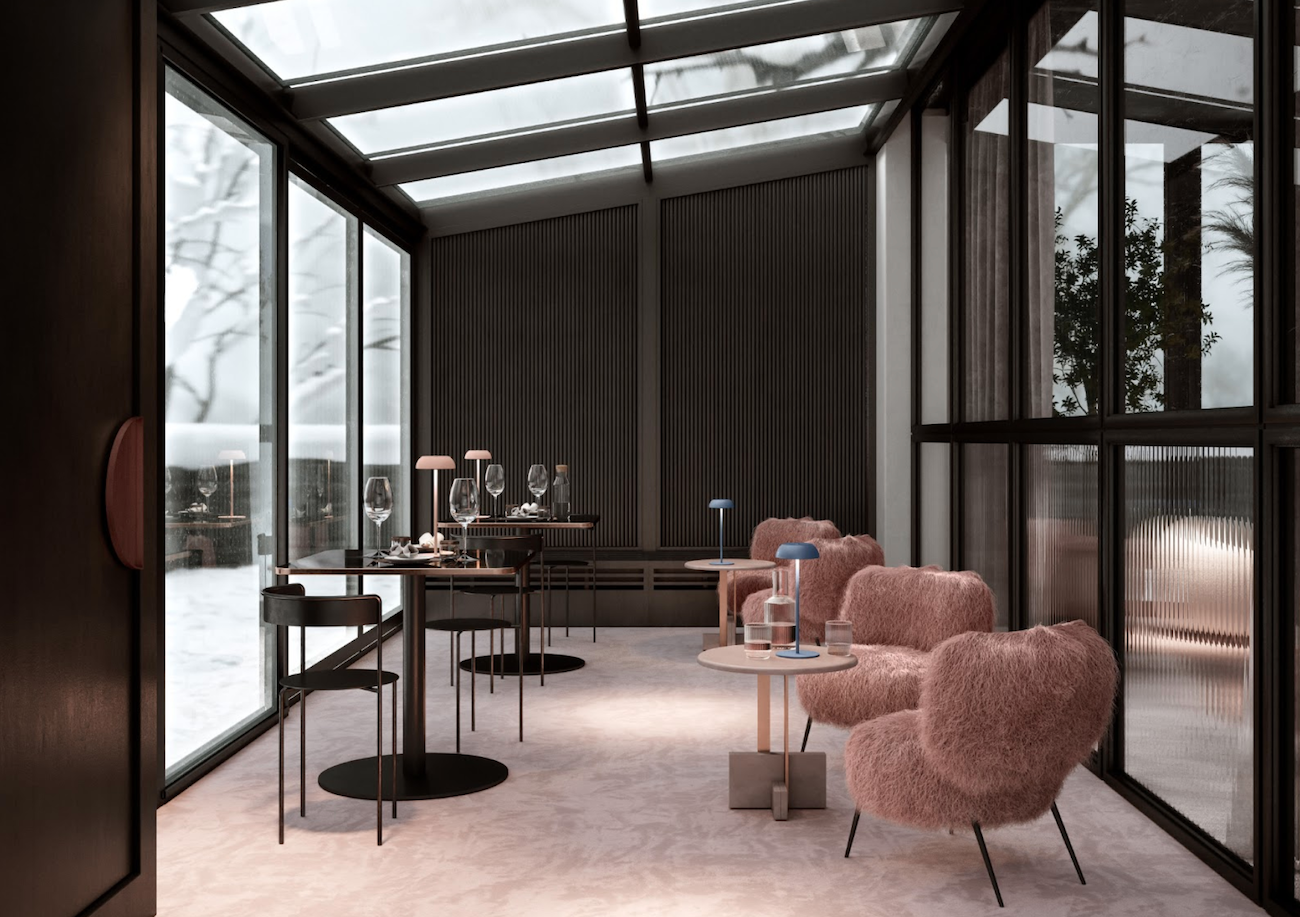 Among pendant lamps, we can find great examples of evocative installations like the Liaison collection, designed by Sara Moroni perfectly balancing three geometrical archetypes: sphere, cylinder and circle. These three elements are combined together in a structure which can feature a single pendant or more articulated multiple compositions.
The metal components, contributing to make this object light and elegant, are the result of an accurate artisan craftsmanship.  Decorative and, at the same time, functional, the elements of this unique collection can create an evocative atmosphere in a venue like a restaurant, contributing to make its spaces elevated and suggestive.
Additionally, Kwic, designer by Serge and Robert Cornelissen, is one of the most peculiar floor lamps which we see as very suitable for a restaurant. The lamp resembles a droplet of mercury sliding on a surface and is composed by a delicate metal structure, a painted aluminum disc and a semi-spheric diffuser in blown glass, protecting the LED source. To make this collection truly unique, is the asymmetrical construction.