According to 2022's interior design trends, dining room light fixtures continue to be a central part of the home's style and soul. Let's see how to make it sparkle.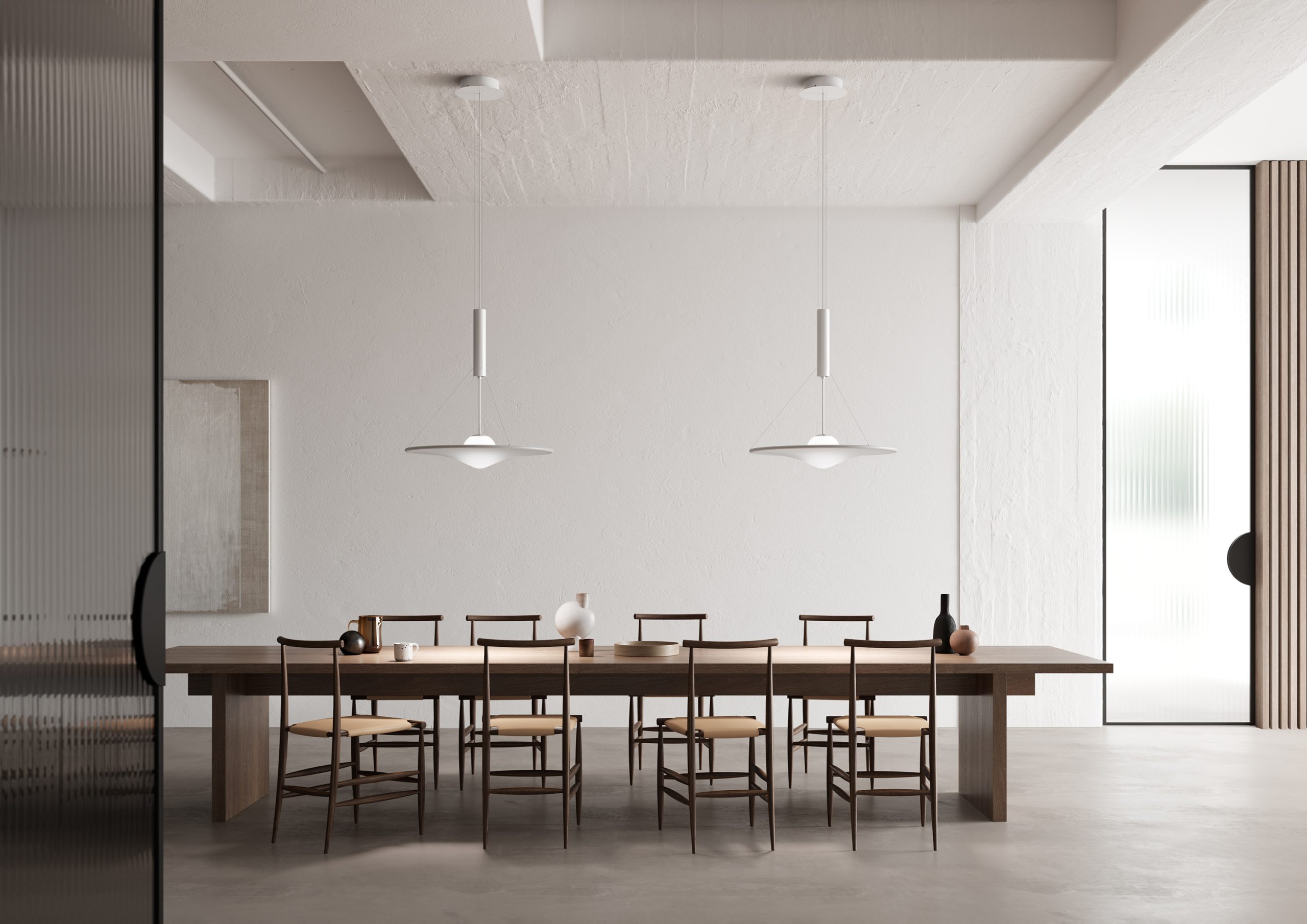 Dining rooms come in all shapes and sizes, but they all have something in common: they are the heart of the house. Family members and guests reunite here to share meals, have a nice time together and chat about their days. This is why you should consider dining room light fixtures as an important part of your interior design style. 
Axolight takes Italian Design Modern Light Fixtures on another level with an impeccable attention to detail and style. Here you can choose the perfect dining room light in order to make your table be a central part of your family culture and day to day life. 
5 dining room lighting trends to try in 2022
In this day and age, modern pendant lights seem to be the perfect solution for a dining room lighting design that gives a warm welcome to every family member and a lovely contemporary style to this room. Here are 5 dining room lighting trends to try with Axolight's solutions.
1. A simple sphere
The most simple and pure dining room light is a white sphere. Swinging from the ceiling, it will give a magical glow to the entire space and a perfectly intimate setting to your dinners with friends and family. Give this interior design trend a twist with a chandelier from Axolight's catalog. 
For instance, Manto is a contemporary version of the simple white sphere. Its opaline white blown glass globe can be suspended or immersed into the elastic fabric for maximum personalization of your dining space. 
2. Multiple light beams
Especially if your space is little and a bit crowded, a series of dining room light fixtures mounted on the ceiling could be the perfect solution. Multiple beams of light illuminate the table and its nearby space without obstructing the airy feeling of the room. 
A series of dining room light fixtures of different sizes, like Axolight's Urban and Urban Mini, could give a sense of artistic wonder to your ceiling. At the same time, it will be functional and practical for lighting up your meals. 
3. Horizontal light all over the table
A single piece of decor can dramatically change the feeling and atmosphere in your room. Choose a horizontal piece like Clavius if you want a silky and diffused light to reach every corner of the dining room, especially the table. 
Remember the dining room light fixture should be perfectly centered in this case. Shatter is another interesting solution for basking your table and the entire length of the room in a lovely and contemporary atmosphere. 
4. Traditional dining room lights
The perfect dining room light fixture for a traditional and cozy home is a fabric suspended lamp. A huge lampshade like Bell's or Skirt's will give a luxurious feeling to the most simple lamp. Choose the color wisely: it will compliment your dining room furniture and other decor pieces. 
A large sized lamp should also be centered above the dining table in order to give a sense of symmetry and harmony to the entire space. Be sure where you put the table and, consequently, the light source: it could illuminate your meals or completely shade them. 
5. An original solution for dining room lighting
If your style is eccentric and you love experimenting with furniture and decor, try an original solution: choose a dining room light fixture that guests won't expect. Some examples? Floor lamps strategically placed on the side of the dining table could give a contemporary look to the room. 
Wall lamps and sconces can also be used to light up this room. Place them strategically alongside the table and make them sparkle all around the dining guests. Your meals will be deliciously illuminated.