Lamps with diffused light are capable of creating a uniform illumination, similar to natural lighting. There are no edges, no unpleasant shadow zones, only a relaxing and welcoming atmosphere. How to achieve it?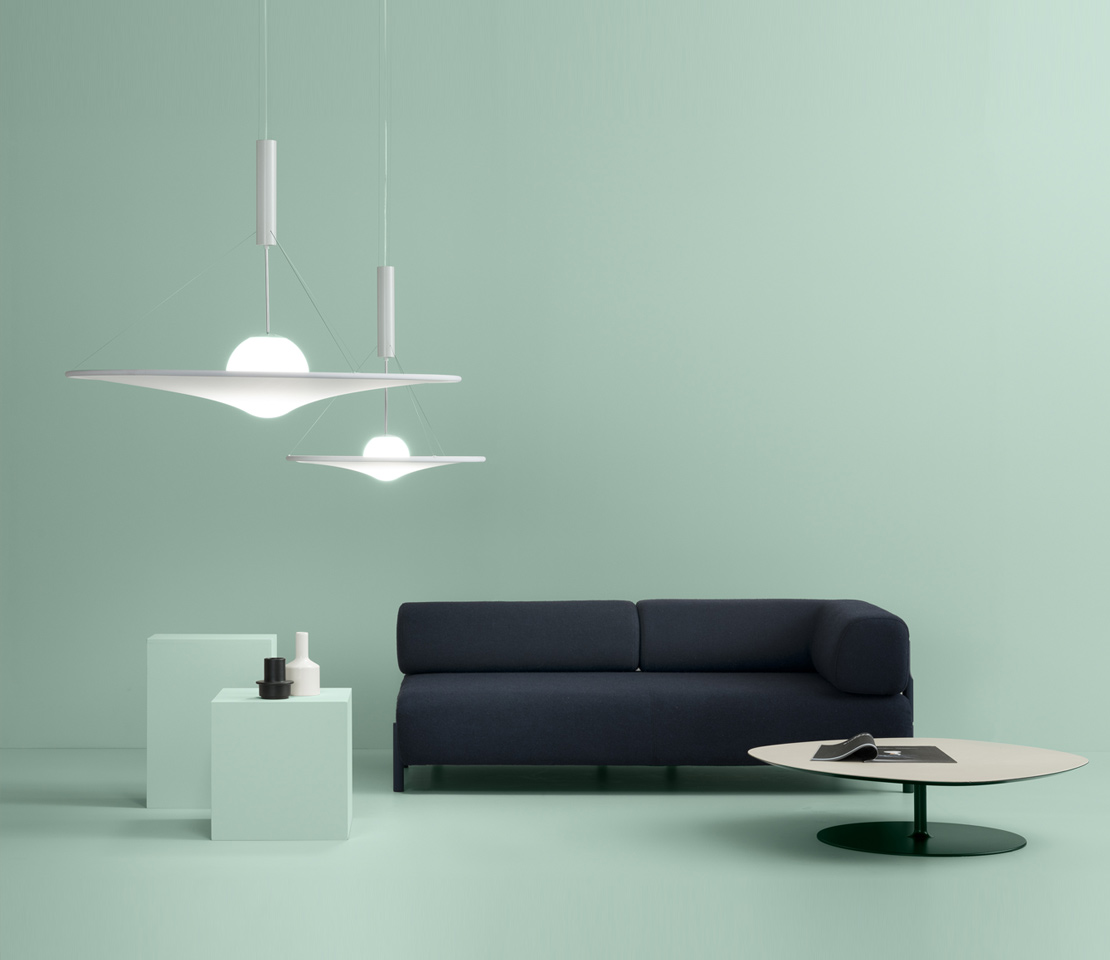 In order to successfully create a decor with diffused lighting, we need to play with shapes, with light beams and geometries of full and empty spaces. A correct positioning of the lighting spots is fundamental, because the goal is to fill the space as much as possible and normally this is done choosing among fixtures with indirect lighting. In this situation, ceiling lamps are an excellent choice, as they will be diffusing a clean and morbid halo through all the space. 
In which areas of the house should we create a diffused light?
A diffused light beam coming from the ceiling can be the right solution for the renovation of an entrance area. This kind of illumination, in fact, imitates natural light, thus representing a perfect dialogue between indoor and outdoor spaces of the house, which is embodied by the entrance room. Opt for designer lamps and pendants if you want to give character to this location in the house, too often overlooked when it comes to decoration.
Ceiling lamps with diffused light are much appreciated also in areas dedicated to relaxation like living rooms, reading corners, bedrooms. Diffused light will make the atmosphere warm and welcoming, inviting our eyes to relax and stimulating the possibilities to unwind or to meet friends and relatives.
Which lamps to choose
To obtain a natural and relaxing diffused lighting effect, the most appropriate design objects are ceiling or pendant lights. Especially if recessed and with a high position, they allow to uniformly illuminate the whole room, masking small defects and smoothening contrasting areas. 
A perfect way to create the right atmosphere is carefully selecting materials for the lighting fixtures. For example, among Axolight's collections which are quite helpful in this sense, we can find Manto. The luminous led sphere is caressing an elastic fabric which is smoothing the luminous flux. By doing so, we allow a diffused light to fill the room and the interplay of geometrical shapes guides our sight towards the ceiling.
Another model perfectly interpreting the diffused ceiling light is Cut: a semi-transparent diffuser disc acts as a separation between the light source and the space, illuminating it with a warm and diffused light.
Diffused LED light
Like in many other aspects of lighting design, LED technology has made diffused light spots a great décor element for spaces. Thanks to the precious cooperation between designers and Axolight, integrated led lamps become more sinuous and elegant, a perfect choice to give a touch of contemporaneity to spaces with a classic style.
Kwic is one of flagships of this kind of illumination, thanks to an opaline light irradiating from the light source, covered by a disk of painted aluminum. The luminous circle is brightened by opaque reflections, creating a diffused light which, originating from the ceiling or a wall, will embrace the whole room.
Other advantages of diffused light
One of the main advantages of diffused ceiling or wall light, is the subtle game of shadows which is created inside the room. The homogeneous illumination will smoothen bold lines and create playful effects which are reminiscent of natural light. Thanks to their wrapping touch, lamps with diffused light are caressing every décor element, mitigating too visible edges and too harsh contrasts.  
For this reason, diffused lights are the ideal solution for areas in the house where we seek peace and intimacy. The domestic library, the living room, a relaxation area or a private spa are the preferred locations for absolute peace. No direct light beams, no shadows and no glary effects to sore the eyes, for these areas enjoying relaxation is key.
When it comes to multi-functional spaces, all we need to do is complement diffused light with some direct light. When necessary, floor lamps, table lamps and led pendants will help outlining a precise area in the room, leaving all the rest in the warm embrace of indirect lighting.
To make the light atmosphere even more morbid, you can choose diffused light fixtures with rounded shapes, sinuous curves, combined with light and semi-transparent materials. We recommend warm light over a cold tone, wherever we want to create a romantic and relaxing atmosphere. White or cold light is instead used to create spaces dedicated to working and studying which are bright and efficient, but still remain welcoming.