You cross it every day when moving from one room to another but you have never given it the right value: it's finally time to focus on corridor lighting!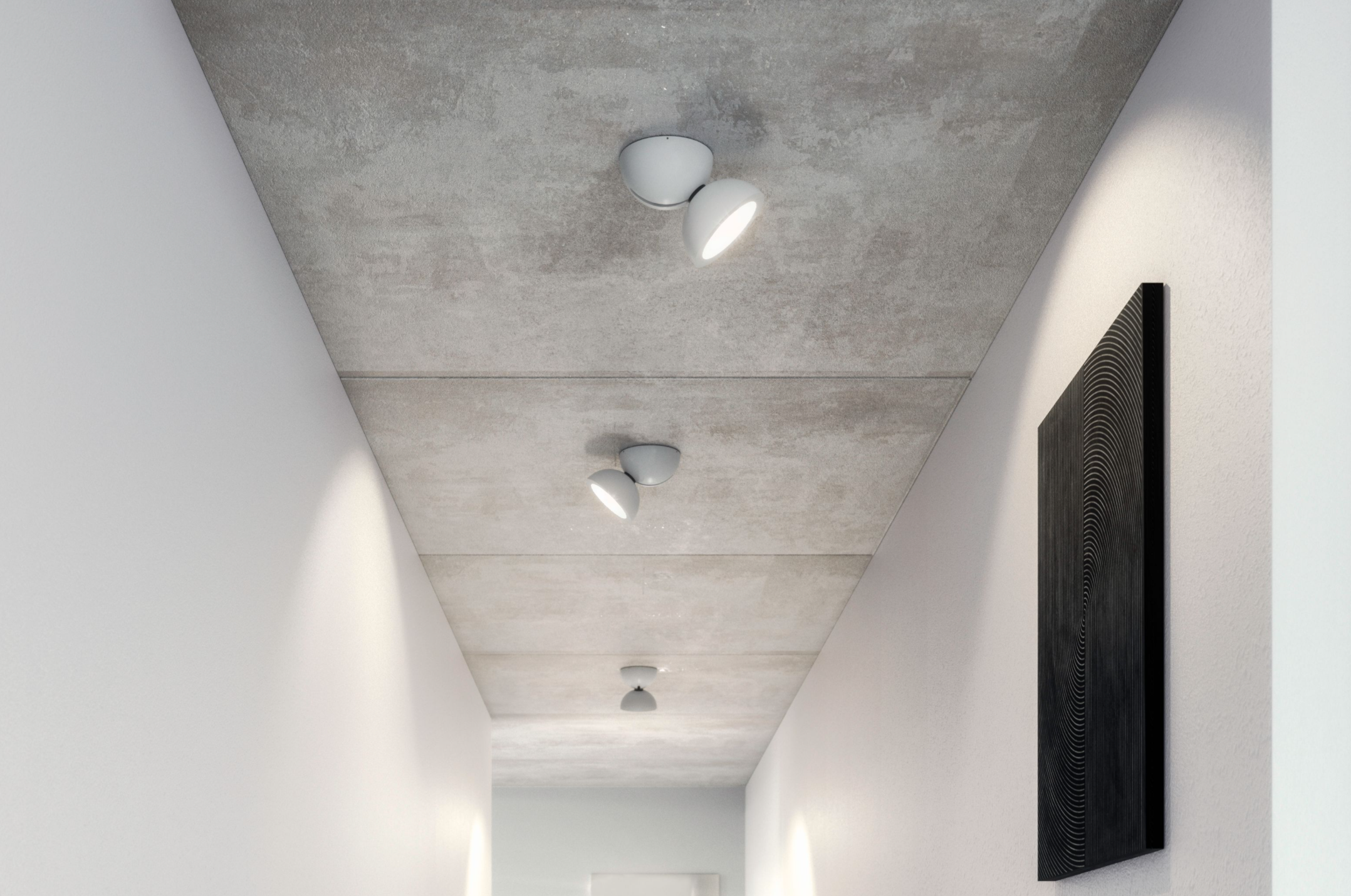 A passageway, like we mentioned, quite often overlooked and really emphasized. Instead, corridors are an important part of a living space. This is the place in which atmosphere and experiences of the different rooms converge, the place that, more than anyone else, should represent the harmony and the overall design idea of who is living in the space.
These are the reasons why it is important to valorize corridors with recessed lamps or wall sconces which will make it luminous, chic and modern. Alternatively, we can turn this area into a really minimal space or even timelessly classic. No matter which is your favorite style, Axolight has you covered with the right corridor lighting.
The difficulty of lighting a corridor
We know why it does not come spontaneously to think about corridor lighting. It is not easy at all: it is a blind spot in the house, with no windows, and quite often not even natural light.
This is exactly the reason why we can let our fantasy run unbridled and decorate with overlooked corner with a breathtaking corridor lighting. First of all, decorate it: add paintings on the wall, plants which do not require too much light, design sculptures in the niches. You can also use color tones to define this space: brighter colors to create something airy and full of light, contrasting and intense colors if, on the contrary, you favor an eccentric style which will focus the attention to this space.
After that, let's consider light. Lighting design of a corridor, more than every other room in a house, is determined by a fundamental choice: ceiling or wall lamps? Alternatively, recessed lights in the counter ceiling or hidden behind decors to diffuse a soft and welcoming light? You can then opt for a warm or cold color temperature to give emphasis to your lighting décor choices.
5 corridor lighting proposals from Axolight
Even for the corridor, Axolight is proposing Modern Light Fixtures of extreme quality, ideated from the best lighting designers to give light and harmony to every corner of the house. This is truly a challenge for lighting professionals: finding the right illumination for a narrow corridor, adding value to a location which is often neglected and turning it to a visual interest.
Here are 5 ideas for corridor lighting
Kwic.

Proposed as ceiling light or

wall sconce

, this collection is simple but curated. The iridescent lines of the surface are playing with light reflections, captured and projected all along the corridor. Available in 3 color and 2 sizes, you can use to convey a sense of movement to the linearity of this particular space.

Lik.

If your idea is opting for a wall sconce, this is the contemporary version of a classic solution. Designed with morbid curved lines, Lik produces a light that diffuses around the minimalist shapes of this elevated design object. The creators are Serge e Robert Cornelissen, who also designed Kwic.

DoDot

. Archistar Simone Micheli is the creative mastermind behind this wall and ceiling spotlight. DoDot, flexible like the neck of the dodo bird and essential like a small dot on the wall. This designer lamp provides smart lighting to a corridor: in fact, it can be oriented to convey the attention to a detail or to an object we particularly love.

Ego

.  A spotlight from a solid piece of natural brass with cylindrical shape and urban style, unexpectedly hiding a powerful integrated LED. In fact, with its light beam you will be able to fill the corridor space or to create a light and shadows interplay which give some dynamism to the passageway. Corridor lights are becoming a piece of art, luxury caprice and a quest for beauty that goes beyond functionality.

Polia.

Here is another solution for lighting up a corridor with a designer wall sconce. 
If you are expecting the classic half-moon shaped light beam, you will be surprised. Manuel and Vanessa Vivian are transforming light into a physical experience, a narration and a whisper. The design of Polia is meant to resemble the sensation of book pages caressed by the wind or by an invisible hand.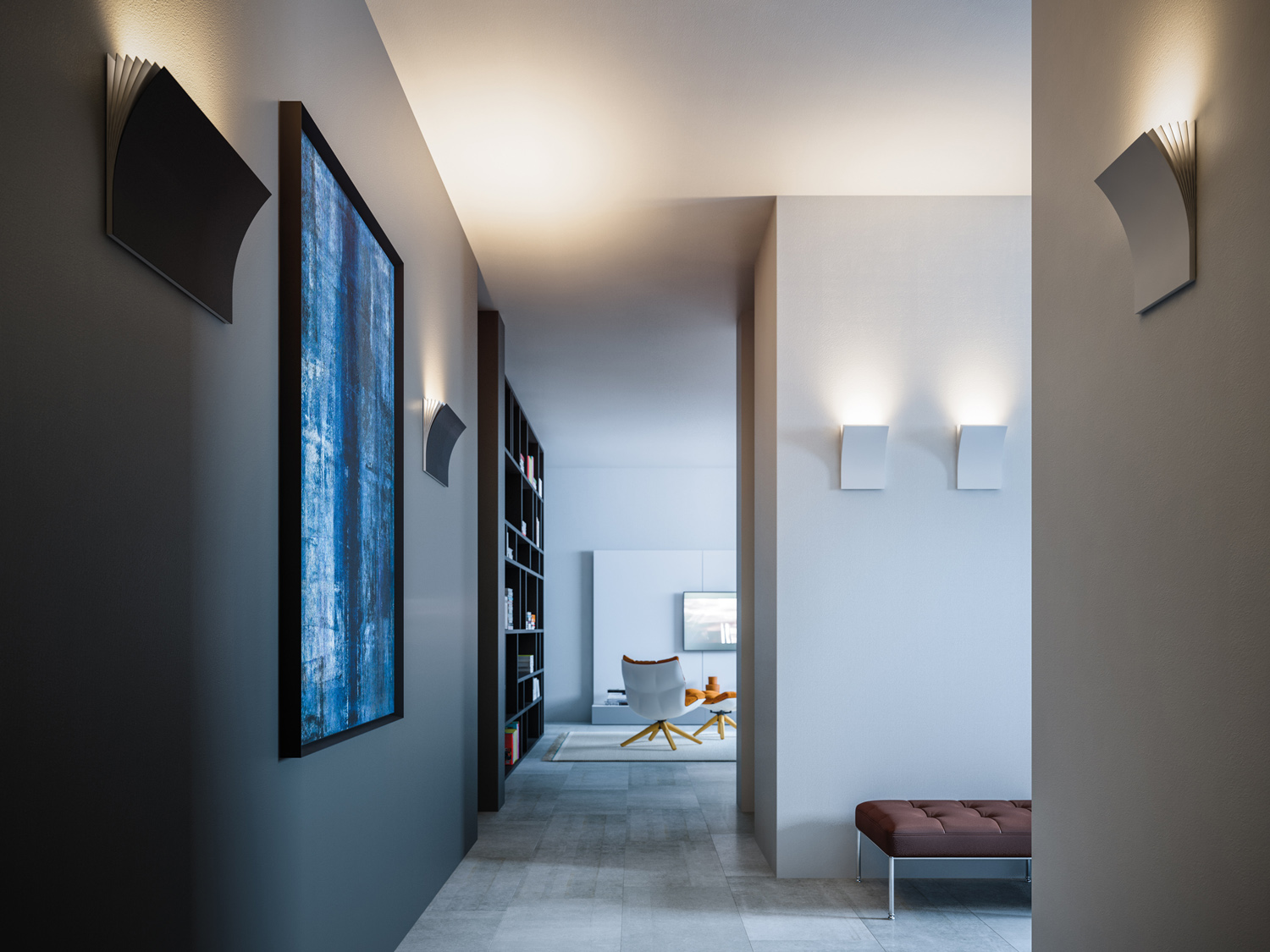 Style recommendations
Sometimes, a designer lighting requires also unusual and bold moves. We know that Art cannot be compressed into pre-defined concepts, the same applies also to the art of lighting. If you wish to have a truly original corridor, why do not try to experiment with an unconventional light positioning?
For example, a single pendant in the middle of the corridor (or at one end) will give more emphasis to your unconventional choices. An LED strip, positioned on the ceiling or along the lower part of the wall will add depth and immediately make the space look bigger, certainly a plus if your corridor is really narrow.
A symmetrical positioning of spotlights or flush mount ceiling lights will confer a curated and elegant look, whereas combining colors and different height for the lighting fixtures will generate a more relaxed atmosphere.