Do you want your home to have a special, cozy glow? These Christmas lights inspirations will help you embrace the holiday spirit without neglecting your house's gorgeous style.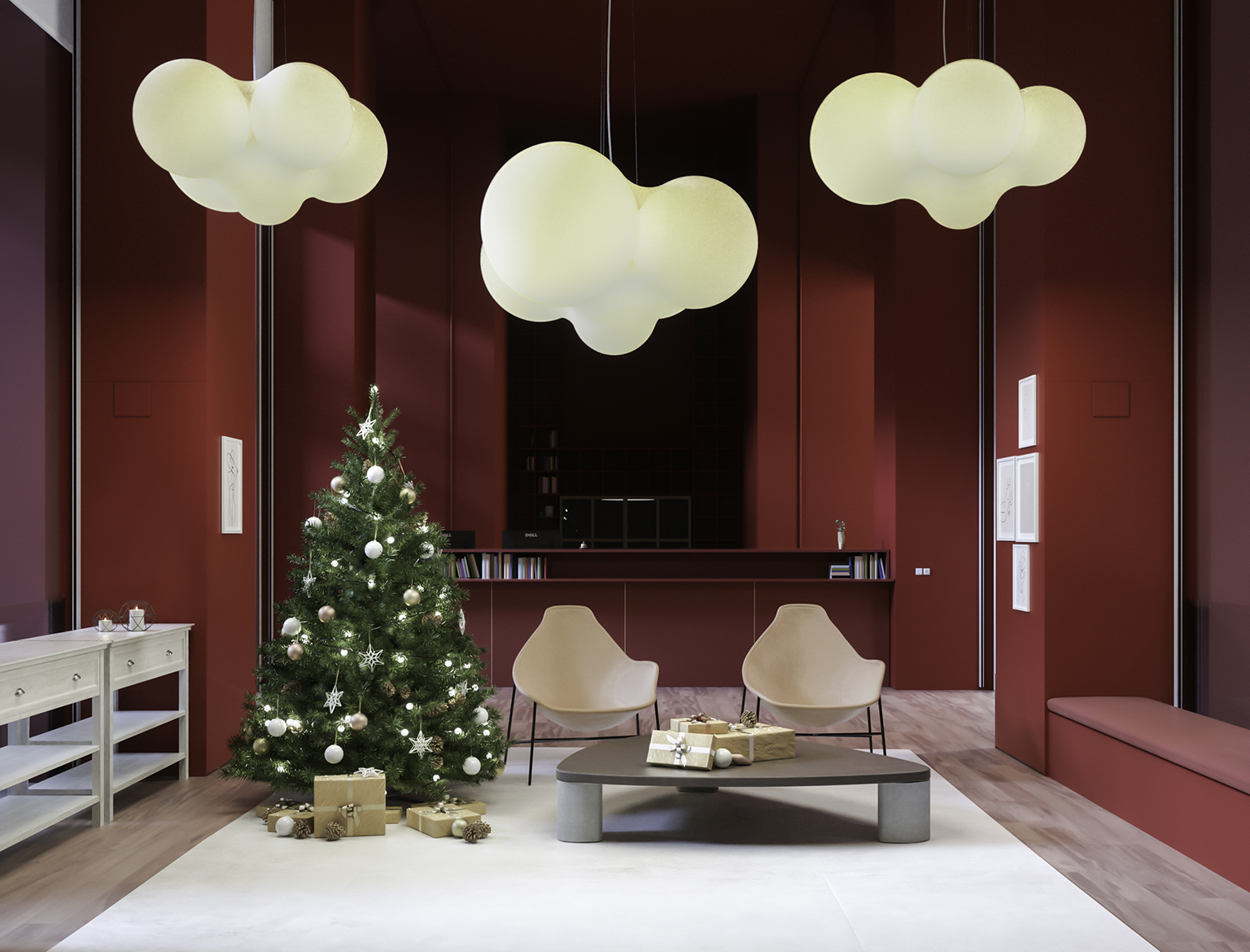 When Christmas and other winter holidays are around the corner, you want to fully embrace the warm and fuzzy feeling of loving and being loved. And that means being surrounded by a peaceful atmosphere in your home and other places, too. If you have a Christmas tree in the center of your living room, this is a good way to make it sparkle, but there are many others. 
You won't change the chandelier specifically for the holidays, but maybe in this article about inspired lighting you will learn how to create a peaceful atmosphere or a fairy, magical one that will last all year round!
Choose sparkling materials
Even one single light bulb is enough to create a magical vibe in your commercial establishment, if it's the right one. Multi-surfaces, multifaceted glass lamps are your main weapon in this endeavour. Take Fairy or Fedora by Axolight: their simple yet sparkling surfaces are perfect for reflecting the light and spreading it out. 
You can also go for simpler lamps like Spillray that will give a candle-like quality to the most contemporary lighting set-up. If you prefer an extravagant style, Mountain View is the right chandelier for luxury hotels and restaurants: a mountain literally sculpted inside your Italian design modern light fixtures for an Alpine inspired winter wonderland. Meanwhile, the red glass garlands of an Avir chandelier makes the space brighter and happier all year round. 
Christmas light inspiration: get creative with ceiling and wall decorations
Pivot is the modular lighting system you can arrange in many different patterns along your walls or on the ceiling. This helps you create a festive mood: try a star-shaped chandelier or a wreath above your fireplace to make the space a little more magical. 
For a touch of sparkle, arrange the different led lights in a constellation above your head: guests and customers will always feel like they are camping under the stars. And that would be amazing, during holiday times and any other day. Pivot can also be used in combination with other Axolight solutions: just imagine a lot of Virtus mini light beams cascading from the ceiling on your Christmas feast!
Play with light intensity
Do you want to create different styles and intensities based on your mood and the time of the year? Dimmable Led lamps are perfect for a restaurant or a shop! This system works in different conditions, always giving you the right atmosphere at the right time. 
The dimmable solution is ideal for Christmas light inspiration: use it at minimum intensity for a warm, diffused light and increase the brightness when working, reading or having informal lunches! 
This kind of lighting gives you a precise light beam when needed and a hazy cuddling vibe when people want to spend some quality time with friends and family. Choose Led dimmable lights on other seasons too: it will be more sustainable and allow for great personalization of different spaces. 
Inspired lighting, both natural and artificial
You know Axolight has got the right solution for every one of your needs. Natural light is your best ally for creating a genuine mystical atmosphere at home and in business, but artificial lighting is crucial in long dark winter nights. 
A balance of the two is the right choice to fully appreciate this time of the year. A twilight illumination is romantic and warm and invites you to embrace your natural rhythm and enjoy your holidays. 
However, the Christmas season is also a time to party and enjoy each other's company. You need the right design accessories in order to create a peaceful atmosphere and inspire companionship: Float is the right table lamp that will encourage harmony, communication and fun between your guests.