Designing a perfect store lighting is paramount to showcase a point of sale, regardless of the marketplace in which it operates. Light can be used to transmit energy and vitality to spaces, adding value to their content; for this reason, shopping windows, changing rooms and obviously your products need the right lighting.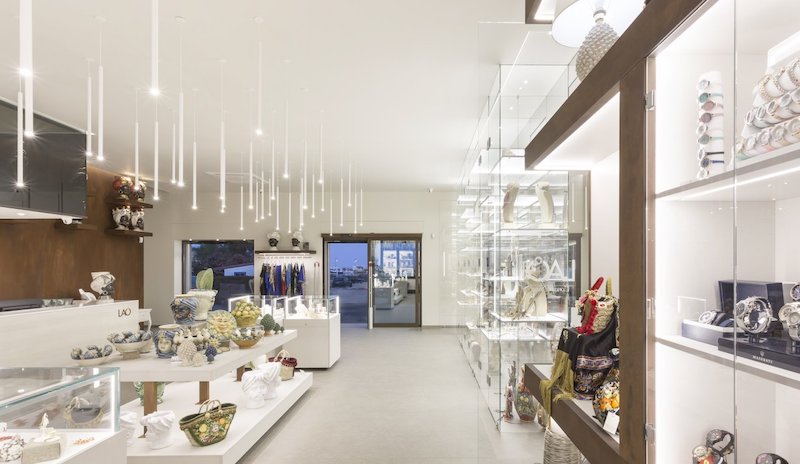 Which are the most suitable lamps to illuminate your store? Here are some great advices to create a lighting environment which will make a statement, conveying a positive impression on customers.
How to illuminate a store?
In designing the lighting for a store there are some important factors to be considered; we want to highlight them because they are quite often overlooked. For example, it is not so widely known that, in order to attract visitors, the entrance lighting plays a fundamental role.
This section, once properly illuminated, can positively strike people's perception, turning them into potential clients. The entrance and the exterior illumination are thus representing a key factor in commercial lighting design; therefore, they need to be carefully selected in order to make a good impression even on a person who is stopping by for quick glance.
Moving from outside to inside, it is necessary to correctly position the lighting sources and also to select the most suitable kind of lamp to enhance the value of the exposed merchandise. A lighting project should consider also the lamps to be installed inside shopping windows and displays, focusing on improved visibility for the products.
LED lighting for a better visual comfort
An improved lighting performance is nowadays a feature of LEDs, our recommended choice to transform a store into an attractive space. LED sources transform the perceptive and visual experience into something unique. Compared to other kind of lighting, this positive experience will be anchored it in a deeper and stable way in the memory of the clients.
LED lamps are also those which ensure the best visual comfort and represent the go-to resource for an optimal store lighting. Furthermore, they project a very uniform beam, not leaving any dark spot in the corners. Last but not least, LEDs are high efficiency sources and generate constant savings on the electric bill.
Once the kind of light has been selected, it is time to consider the aesthetic factor, a key contributor to create a stylish environment which will capture the attention of the clients and make a lasting memory. The aesthetic of the lamps used to decorate a store plays a really important role in defining its style, thus giving a strong contribution to elevate the overall appearance.
Lamps suitable to illuminate a store 
First of all, a store needs some general lighting to ensure a good vision of the environment and to allow the staff to effortlessly see all the displayed merchandise. In fact, lighting must be comfortable and must not create uneasiness. For this reason, our suggestion is to use a warm light color tone, conveying a sense of welcome and hospitality.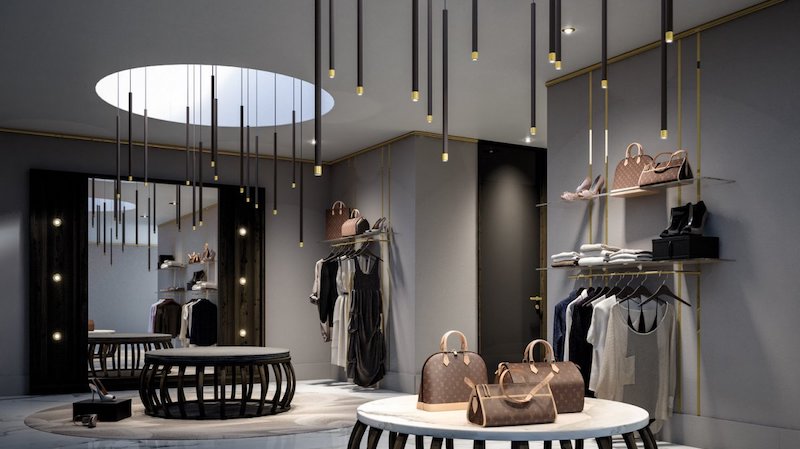 When choosing the lamps to create general lighting, the best options are pendant lights and wall lamps, to be installed in the positions which have been defined during the design phase. An ideal solution are the Orchid wall lamps, featuring an organic shape the resembles stems and buds, projecting intense light beams combined with a diffused light which will infuse elegance inside a store.
Additionally, every point of sale needs lamps with directional lighting, so that it will be possible to put an accent on the single objects on display. In this case, the best choice are the spotlights for stores, featuring state of the art design and technology which will fulfill any need, but, most of all, will add a touch of elegance and style in whatever store.
Thanks to orientable spotlights, customers get an improved product perception both inside the store and from the windows. For example, the AX20 spotlights, lamps with minimal and well-defined shapes, capable of orienting the lighting beam with precision and intensity.
Another great choice is the dimmable lamp Jewel, a modular composition that looks like a precious suspended jewel. This collection is suitable for spaces of any dimension, capable of creating harmony and elegance while illuminating in style with no glaring.
Browsing our website, you will find many interesting proposals to illuminate your store, thanks to a broad range of design lamps and designer pendants, with refined shapes and high-quality materials.
Explore the different models until you find the one which resonates with your design idea and gives the style your desire for your commercial activity, allowing you to stand out from competition and attracting the attention of new clients.