If you are so lucky to have a ceiling with exposed beams, you will need the right illumination to valorize their beauty. The clean lines of white beams or the wood texture depth should have their elegance in the spotlight.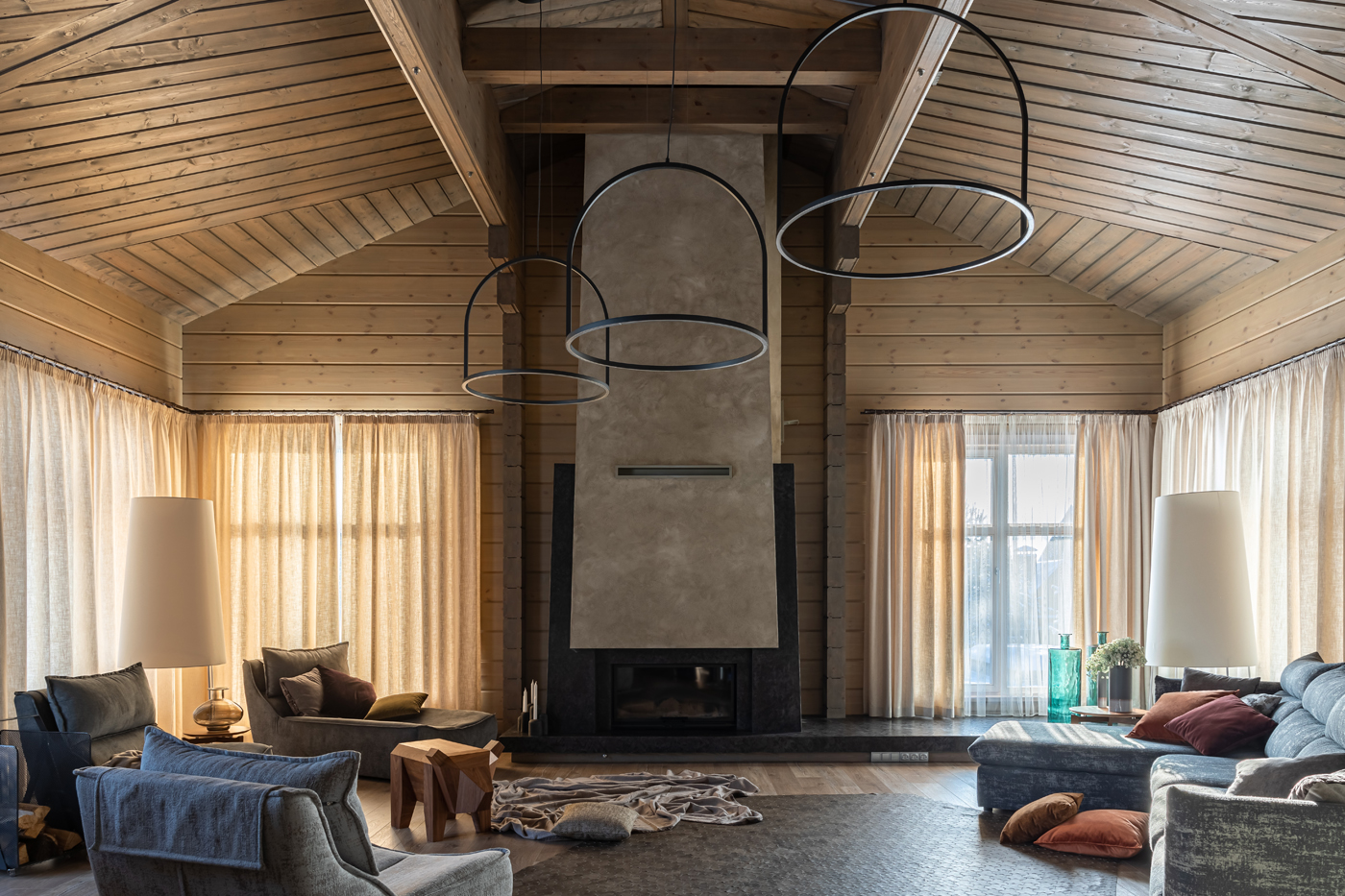 In which room are the exposed beams located?
There are many solutions for the illumination of wooden beams and they can easily be adapted to different kinds of rooms. However, we might want to create a quite different atmosphere for a kitchen, a relax area or a bedroom; consequently, there will be differences also in the choice of Modern Light Fixtures to achieve it. 
We will give you a few ideas to make a room with beams on the ceiling either romantic and intimate, or warm and welcoming; additionally, we will help you give the correct definition to this space, based upon the color and the height of the beams.
As an example, for a living room and a kitchen located on an upper floor, ideally you should focus on bright colors, to ensure the maximum luminosity. These are the domestic spaces more utilized during the day, therefore we need to make them welcoming and apt to perform the everyday activities. Planning the right illumination on white beams will make the space look much wider of its actual dimensions.
A bedroom, instead, requires a more intimate atmosphere, especially if we are designing it with a relaxation corner and a luxurious bathtub. Here is where you will be waking up every morning and peacefully fall asleep in the night, consequently you might want to feel cocooned.
Ideas for the illumination of exposed beams
In a ceiling with exposed beams, the most appropriate lighting is mainly depending upon the available space below the roof. A high ceiling will be the perfect location for pendant light lovers. Big, opulent, colorful or white, always luminous, these pendants can completely fill the vertical space and allow a homogeneous light distribution.
When facing a low ceiling, instead, LED lighting of the beams is the ideal solution. All you need to do is focus on small essential and compact light spots, which will draw attention to the beautiful wooden beams, without distracting from their authenticity.
If you wish to further add value to each veining of the wood, select glass lamps, because their translucence will give unexpected glares to the room, create nice lighting effects on the wall and, most of all, will leave the possibility to admire the wood structure at a glance.
The ideas from Axolight for structural beams lighting
Essential and contemporary shapes, saturated colors and transparencies are playing with the architectural lines of these spaces. The designers for Axolight know perfectly how to balance lights and shadows, full and empty spaces, allowing light to completely permeate the volumes defined by the wooden beams. These proposals for ceiling lights and pendants are truly the perfect companion for your wooden beams:
When considering

design pendant lights

, Alysoid is the quintessence of beauty. Its curves are blooming towards the wooden beams,

allowing the light to underline every detail

. The clean lines and metal beads of this pendant are making the smooth texture of wood even more precious, giving a clean subdivision of space in visual layers.

U-light is perhaps

the most essential pendant light

. Incredibly performing, U-light can define a space with its geometrical shapes, diffusing lights even in the most remote corners of a room. This collection can be used to create a strong contrast with the rustic appearance of the beams or it can be matched with white beams to achieve an extreme minimalism.

A pendant lamp with colorful lamp shade

is very well suited for the decoration of everyday spaces. One great example is Bell, featuring pongee multicolor fabric. You can choose a saturated tone like yellow, blue or red for a kitchen with visible beams; alternatively, you can opt for white fabric, which will ensure a simple and intimate atmosphere if you want to illuminate a living room or a home office.

Last but not least, Mountain View embodies

master craftsmanship applied to functionality

. Completely made of Venetian blown glass, this pendant light has a beautiful mountain wrapped by a transparent bubble. With a juxtaposition of different layers, a refined glass blowing craftsmanship is blending with the natural and savage beauty of wood in a truly unique environment.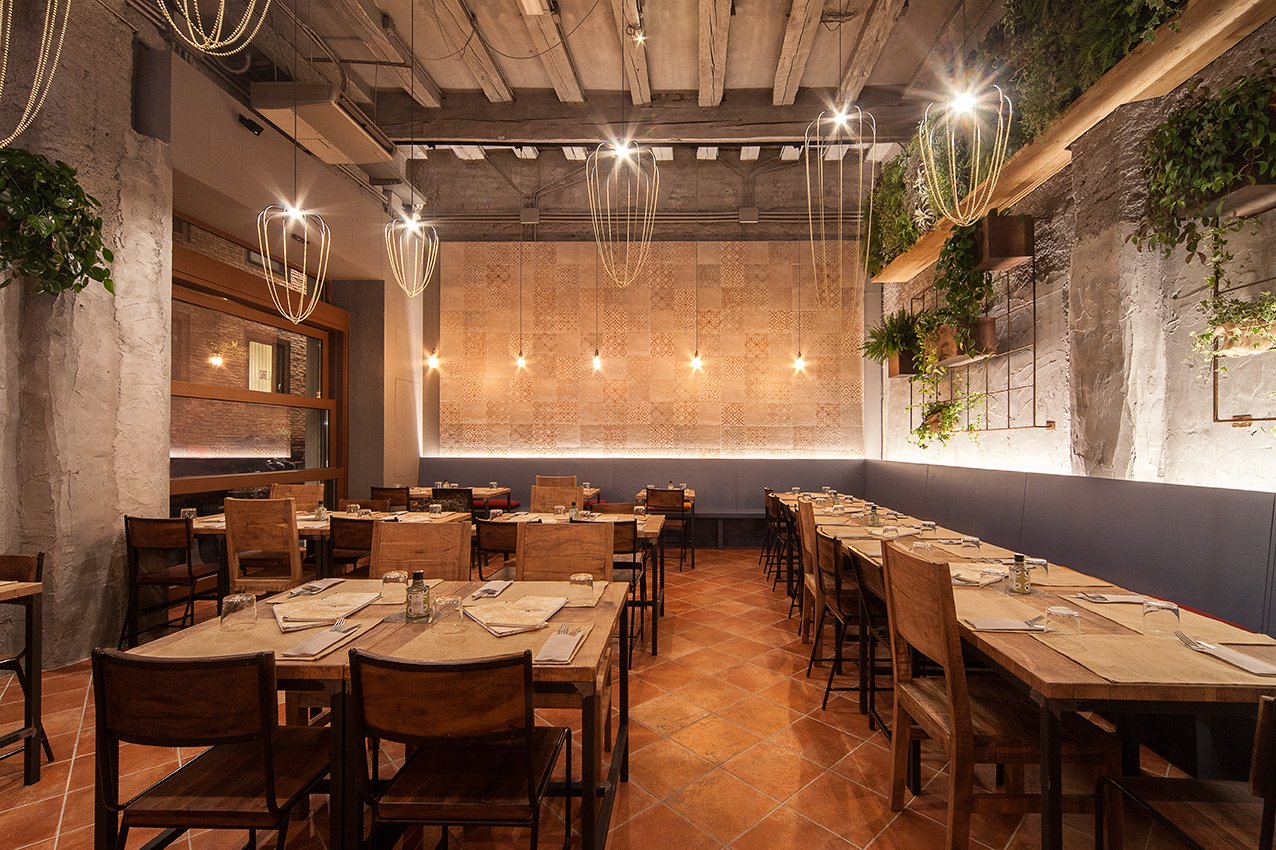 What if the lights on the ceiling lighting are not enough?
If the beamed ceiling is extending over a particularly wide room, pendant lighting could not be enough to ensure that the full space is properly illuminated. What can we do in this situation? We can unbridle our imagination with a mix and match wall sconces, floor lamps and ceiling lamps in the darker spots of the room.
We can even create some thematic areas using LED strips which will be running along a beam, or some small lights of the Fairy collection dropping like a magic waterfall over a corner dedicated to reading and relaxing. Use light to model spaces and highlight your favorite décor objects; by doing so, you will be able to make every inch of your house enjoyable and stylish.