Warm and welcoming atmosphere, relaxing music and soft lights are unmistakable features of a lounge bar, vital ingredients to turn it into a place where spending some time for a drink becomes a remarkable experience. In order to recreate the perfect atmosphere, it is crucial to carefully refine the lounge bar illumination.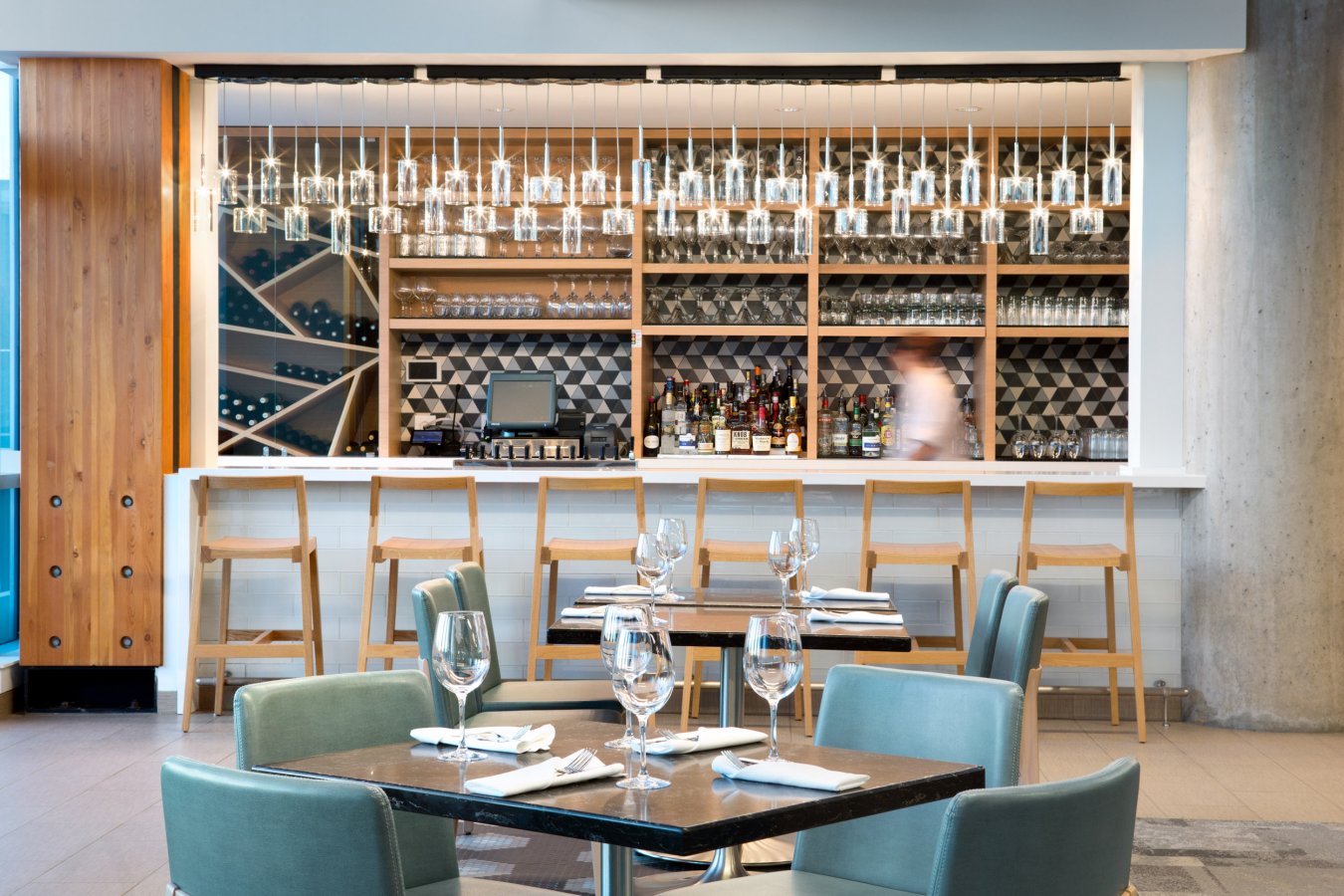 Here are some advices on how to optimize lighting and which Axolight lamps to choose.
How to illuminate a lounge bar
An indoor or outdoor lounge bar is a venue where clients meet to enjoy a moment of relax, to have a positive experience as a couple, with friends or business partners. Choosing the right illumination means making clients feel at ease end ensuring a correct visibility while, at the same time, creating a relaxing and enjoyable atmosphere.
In addition to spotlights and other lamps which are commonly used to make lounge bars more welcoming, pendant lights are certainly a must, thanks to their diffused light. In fact, if correctly chosen and installed, pendant lights can transmit a deep sensation of intimacy and confidentiality.
Pendant lights are particularly recommended, especially if placed over the bar and the tables. An ideal solution to create multiple distinct spaces within the same venue, they allow to play with light and generate more romantic and isolated areas, much appreciated by clients looking for some intimacy. Pendant lights are also suitable to illuminate a lounge bar, choosing lamp positioning that will ensure a correct lighting.
In the choice of lounge bar lights, we have the possibility to consider also different materials. The most used are certainly glass, crystal, chromed metal, fabric, all capable of generating stunning effects if combined with fantasy and creativity.
The overall design must be carefully considered, because it is exactly this facet which transmits to customers the message and the character of a bar, therefore design should be inspired by the style of the venue. Generally speaking, we see that minimal or industrial furniture is favored for lounge bars and the Axolight lamps are the perfect match for those who like novelties and want to follow the latest trends.
As pendants or ceiling lights, lamps with LED technology can illuminate a lounge bar diffusing a uniform light and creating interesting effects. The innovative and curated shapes turn Axolight products into decors who can transform a lounge bar into a space where clients may want to remain as long as possible.
How to illuminate the bar counter
The bar counter lighting must absolutely be well studied, because it is undoubtedly the prime area of the location and therefore needs to be highlighted in the correct way. Bar lights for the counter need to accentuate its importance, while remaining soft at the same time.
Among the most suitable bar pendants from Axolight, we can find the Jewel suspension from Studio Yonoh, looking like a precious gem suspended between harmony and elegance. As a single pendant, or with multiple installations up to 10 lights, Jewel is capable of giving a good lighting intensity without glary spots; the many options always allow to find the perfect solution for each bar counter.
Kwic collection includes a pendant light too, ideal to decorate with taste and elegance a lounge bar. From an idea of the designers Serge and Robert Cornelissen, Kwic is composed by a semi-spheric blown glass diffuser containing the integrated LED source, asymmetrically applied to a circular aluminum element which comes in three different colors.
This collection has the capability of infusing an intense light in space, radiating from the opaline white glass, at the same time, from the back of the mounting, a soft indirect light will be released. When installed over a bar counter, Kwic becomes a visual interest and adds value with its presence.
Another very elegant alternative is the ceiling light Skin, designed by Manuel and Vanessa Vivian, immediately recognizable for its eco-leather and flame-resistant shade, manufactured in different sizes and colors. The perfect and rational shapes of this ceiling light, even if extremely simple, are adding elegance and unicity to a lounge bar. By choosing the most appropriate dimensions, Skin can also be used to illuminate the bar tables with great taste and elegance.
Even the suspension lights from the Spillray collection, designed by Manuel and Vanessa Vivian, are well-suited for a lounge bar. Available as single or multiple combinations to match the dimensions of the venue and combined with a broad color offering, these pendants with a minimal design are meant to illuminate with a discrete elegance.
On the Axolight website you can find several proposals of designer lamps and pendant lights which can be used to illuminate with elaborate and original decorative effects a lounge bar. To complement the overall lighting of a bar, there are also some splendid proposals of designer table lamps and designer floor lamps, to be appropriately coordinated with the pendants in order to create unique and fascinating spaces.